I Use My Massage Skills as a Volunteer: A Case Study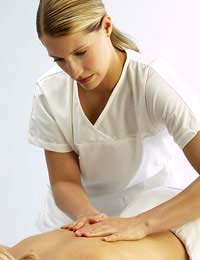 Lila Campbell has a soothing touch which she uses to good effect as a volunteer masseuse. Not only does Lila gain all the benefits of using her skills but the people she gives massages to benefit too. "I love it" Lila says. "I'm so glad that I started volunteering."
Lila is a mother of two, who first studied massage six years ago. Both of her children had started school and Lila had some spare time on her hands.
"I felt like a new challenge and saw massage classes advertised at my local education centre." Lila signed up for the six week course and was introduced to a taster of the basic skills of massage.
"It was enough to get me started and I started offering massages to family and friends." The feedback that Lila got was positive and she found that she enjoyed giving treatments.
Signing Up for a Course
She decided to sign up for a one year ITEC certificate in anatomy and physiology with Swedish massage.
"It was a bit of a leap from the local course but I was enthusiastic and keen to learn more." The course involved several hours study every week and at times it was a struggle for Lila to juggle it with raising her family. Luckily her husband was able to provide help and support. "He was very encouraging and could see that the course meant a lot to me."
Starting a Business
A year later and Lila had passed the course and was qualified in Swedish massage. She decided to offer her skills at her local gym and soon found that she had her first clients. "I went about it properly, taking out insurance and making sure that I knew what I was doing." Lila invested in a portable massage table and this meant that she was also able to offer sessions at clients' homes. Thanks to word of mouth her clients grew and soon she was working three afternoons and two mornings a week. "It was a welcome source of income and gave me money to put towards holidays and treats for the girls. It was a great way for me to get back into the world of work."
Using My Skills to VolunteerLila has worked as a massage therapist ever since and two years ago she began volunteering. She saw an advert from her local day centre looking for a complementary therapist to offer treatments to elderly members. "I thought, that is something I'd like to do" and she went along for a meeting with the centre manager. Soon they had arranged for Lila to visit for a morning a week.
"I turn up with my portable couch and there is usually a queue!" Members of the centre can sign up for a full body massage, head and shoulders massage or Indian head massage. "I love working with the members, they have many interesting backgrounds and stories to tell. Many of them are on their own and this may be the closest human contact that they have in a week." Lila believes that the sense of touch is a powerful one that can be very healing and help to reduce stress and alleviate many mental and physical problems.
"It's good to give something back in this way and I get to meet interesting people. They often make me laugh and I consider it an absolute pleasure to volunteer for the centre. It's good to share your skills."
You might also like...