Volunteering to Help Premature Babies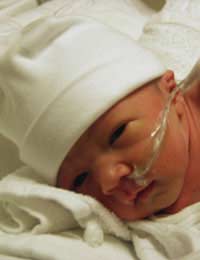 The life of a premature baby is fragile and stressed, and the family of such a baby are likely to also be extremely stressed and anxious. Physically, mentally and emotionally, the tiny babies and those who love them need all the help they can get. Fortunately there are a whole host of ways that you can volunteer to help.
Craft Volunteering
A large number of UK charities and organisations offer the opportunity to sew, knit or crochet clothing and other items needed to care for premie babies. Items needed range from premature clothes and blankets through to tiny burial outfits to give those little ones who don't survive a suitable and loving garment in which to be seen for the last time by their grieving relatives.
The items are made for the charity and then collected to be laundered so that they are free of all infection and irritation before being taken to special care baby units.
This opportunity requires you to have the necessary craft skills, to be able to work to a pattern and to either take your items to a depot or post them to an agreed address for onward transmission.
Courier Volunteering
Several motorcycle groups and charities have volunteer roles, transporting urgently needed donor breast milk, and blood, to neonatal units where the milk is given to premature babies to boost their immune systems and the blood provides transfusions for mothers who have complications resulting from their labour.
In rural areas in particular, the regular provision of donated breast milk can make a huge difference to a baby's survival by reducing the risk of infection. It gives the tiny babies optimum nutrition as well as reducing their vulnerability to infections and viruses. A mother who isn't producing milk may be very stressed about her baby's health and that can, in turn, make her ill, so ensuring that premies get good milk helps not just the infant but his or her immediate family to feel that the best possible care is being taken of the little one.
Some mothers who lose their own babies go on producing milk by breast pump and donating it to others as part of the process of coming to terms with their grief, so the provision of courier services may be helping parents who have lost a baby just as much as parents who are struggling with the complex and demanding medical routines of a neo-natal unit.
This opportunity to volunteer requires a car or, more often, a motorcycle, a full clean licence, a good knowledge of your local area and the willingness to get up and go at any hour of the day or night. Training and support and special clothing, and packaging for the medical supplies, are provided by several charities to do this work.
Support Group Volunteering
Over 80,000 babies are born too soon, too small or ill in the UK every year. Local family support groups help parents cope with the stress of having a baby in a neo-natal unit or recently returned home from one. They also support parents who have lost a premature baby and they work with wider family such as other children and grandparents who often struggle to cope with their feelings and don't know how to act for the best around a premature baby.
This opportunity requires you to pass a Criminal Records Bureau check, to be or have been a parent (not necessarily of a premature baby) and to be willing to work with your local community. Training and support are provided by several charities to do this work.
Premature Baby Cuddle Scheme
Studies showing the benefits of human physical contact on newborn babies has prompted some neo natal units to recruit volunteer "baby cuddlers". While parents are generally around to provide this vital 'service' - there are times when some respite is needed. Occasionally too, a parent will be unable to cuddle a newborn because they are unwell themselves, this is where volunteer cuddlers come in. Their role is simply to hold an unhappy baby, providing a human touch and perhaps singing or talking gently to reassure them.
Where Can I Find a Cuddle Programme?
We don't have a list of cuddle programmes in the UK, so please contact your nearest premature baby unit, or NHS trust to find out more.
You might also like...
I would like to help by giving the nurses time to deal with other baby iv just stop fostering and have some time for nights to cuddle up with one of your baby's that may need a loving cuddle I am a carer myself and just had my first grandchild iv I could help then please make contact with me
Kelly
- 4-Dec-23 @ 11:29 PM
I'm a 43yr old male, who hasn't had the opportunity to have my own child yet, but still love children and animals. They too seem to love me and I'd love to volunteer and share loving moments whilst helping others.
Lee
- 22-Nov-23 @ 9:00 PM
I would love to know if there is a premature baby scheme or cuddle scheme In Nottinghamshire, I have a two year old daughter myself and I would very much like to get out there and give back to the community, Cuddling babies would be great, I just know that I could give them plenty of love back
Rebecca
- 21-Nov-23 @ 7:23 PM
Hi please send information on becoming a volunteer with baby cuddling. I work part time for a Brighton charity and have a current Enhanced DBS. Looking forward to hearing from you ??
Aitch
- 4-Oct-23 @ 9:56 AM
hi please could I get some info on any volunteer support groups for premature babies and the families and also any baby cuddling opportunities. being a mum of a prem boy myself (although he's 19 now) I have first had experience on the feelings and stress of the unknown, and perhaps could give the families and babies some comfort. I look forward to your response thank you
lisa
- 3-Oct-23 @ 4:49 PM
I love children, I love babies. I have always loved holding babies and to give them a cuddle and I love to sing to babies also. I would be able to volunteer at a weekend as I work full time, but this is something I would love to do. I have always been around children growing up. I brought my niece up and use to sing to her. I've had alot of experience with babies this would be something I would love to do.
Kel
- 2-Oct-23 @ 10:44 PM
Hi . I am passionate about babies mum of 4 and my dream is to care for babies . Is there any aportunities for me cuddle and care for babies ?. It is my life dream .
KrisTina
- 8-Aug-23 @ 4:32 PM
I am a mum of 3 that are much older and don't live with me anymore. My daughter was a premuture baby she was unwell me and baby nearly died. Sadly my parents were told 1 or both of us could lose our lives. Luckily we both survived I never met my daughter for days as I was in icu and my daughter was in the babies icu upstairs. All I had was a picture but I was so ill I was out of it the whole time. I used to help the homeless but now I'm looking to volunteer again. The help my daughter go was inspiring n I'd love to help out with babies in need
Sammy
- 27-Jul-23 @ 7:06 PM
I am now retired but I am looking to give back to the community. I would very much like to cuddle babies while their families are recovering from a difficult time. I would also like to assist young people to read & learn to lovebooks as I do for knowledge & escapism & fun. I am interested and in the elderly. They've lived amazing lives, have so very many things to tell us, educate us & make us gasp & smile. I am looking to volunteer but I'm quite shy so I'm not sure where or how to start or not Ben can f I'd fit in. I have the time & the energy & enthusiasm but I don't know how or where to start. Please can you help me? Thank you
Michelle
- 4-May-23 @ 1:01 PM
Please let me know where I can help with the prem baby scheme. I live in North Yorkshire, am a teacher and a mother to two adult children. Thank you
Alison
- 14-Apr-23 @ 10:43 PM
I would love to know if there any opportunities in Bristol to help with prem babies or any that just need a hug and comfort. Please do let me know if I can help in anyway with the babies and I will be there. Many thanks
Beckie
- 13-Apr-23 @ 3:04 PM
I would love to work with babies on weekends . Please give me a chance to show my love and affection to little angels. Thank you
Anet
- 22-Mar-23 @ 9:03 PM
I am incredibly interested to volunteer with babies and looking forward to this great opportunity.
Nabila
- 9-Mar-23 @ 2:07 AM
Hi, am a mother of two kids, who are big now, working as nanny, would like to register myself forvolunteering babies on weekends . Please do let me know if I can show my love and affection towards them. Thanks . Eagerly waiting for your favourable reply.
Ann
- 28-Feb-23 @ 1:30 PM
I have a little bit of experience as I have young siblings,I use to sing to my little sisters when they were babies to help them fall asleep and I would love to help out with singing and cuddling them and making sure there happy.
Grace
- 15-Feb-23 @ 9:29 PM
First when I saw that there are opportunity to Volunteering to Help Premature Babies I was so happy, and I was looking to help baby's and make them feel loved and special. I would love to have this opportunity so much. I am at this point in my life that I want to do good for others and for me " because I love baby's " it would be perfect. I could volunteer 2-3 days a week! Please let me know if there is something to let me enjoy and to be there for these amazing little souls.
Madi
- 12-Jan-23 @ 3:01 PM
Hi there, I'm a mum to be and this might sound crazy but I've had a dream today and I saw lots of babies without parents needing someone to cuddle them. I think God was trying to give me a message. So I decided to check out volunteering to do such. If there is an opportunity please email or contact me. I am an HCA so I have my DBS in date and happy to go through all the vetting process thanks. 07925401273
I am a first-time mum of girl/boy twins. The babies were born premature and I really need an extra pair of hands for baby cuddling. All the time is dedicated to feeding or putting them to sleep, so they are gaining weight healthy, but we go for a walk very rarely - preparation takes ages and they usually do not sleep outside, usually they cry wherever we are going. The hardest part is to see one of them crying while I am holding the other one. I would appreciate if a volunteer could pop in on us from time to time or go for a walk with me and the babies to cuddle one of them while I am holding the second twin. My WhatsApp 078 6263 8096, Ellen
Ellen
- 28-Dec-22 @ 10:53 PM
I would love to be a baby cuddler to give a premature babies love and warmth Please contact
Cri cri
- 28-Nov-22 @ 2:24 PM
I would love to have the chance to be a baby cuddler
Olta
- 26-Nov-22 @ 2:32 PM
Would love to know more about Cuddling babies please
Ria
- 25-Nov-22 @ 9:58 PM
Want to volunteer as a baby cuddler/reader any time after 5pm weekdays or all times during weekends. I am 25, experience with newborns including premature babies
Lilli
- 20-Nov-22 @ 6:10 PM
Heyy Do you offer any volunteering or work experience opportunities to people under 18, as well as is it possible for a 16 year old to become a baby cuddle, if yes than could you please provide with the link to apply.
Fakiha
- 17-Oct-22 @ 5:19 PM
I am a mother of two girls she 37 and 38. I also have five grandchildren aged between 6 and 15. I love children especially babies and I have also been helping a friend of mine who has recently adopted 2 children aged 2 and 3. My eldest girl was in scbu so I have lots of memories of that time. Please can you let me know if my local hosp at north staffs Matt need volunteerds there please.
Sue
- 19-Sep-22 @ 4:00 PM
I would like to work with babies , I have qualification as a Nurse from my country , I was working on the Babies ward , in my country .In Uk I was working in the Nursery as a Teaching assistant . Currently I work as a Health Care Assistant in Nursing Care Centre. mobile : 07835154868.
Anita
- 7-Sep-22 @ 9:20 PM
I too would love to volunteer for baby cuddling,I am a mum of 4 and a grandmother to 9.
Loopy
- 29-Aug-22 @ 7:21 PM
I have 3 children and now 2 grandchildren with 2 more on their way. I would love to be a cuddle person for a baby. But don't know how to get into this such rewarding self satisfaction voluntary work
Tess
- 20-Aug-22 @ 11:23 PM
Where Can I Find a Cuddle Programme? I'd love to do this! Stockport area
Laura
- 11-Aug-22 @ 5:33 PM
I would love to be able to offer support to premature babies through the cuddling scheme, but have no clue where to start looking for them! I called my local hospital and they have never heard of such a programme, so not sure where to go next.. i am from the Leeds area
Tan
- 18-May-22 @ 1:18 PM
I would love to become a volunteer in the NICU at the royal Stoke hospital. The team helped me and my baby survive.I would love nothing more than to provide the love and care that they had shown me , to children that do not have the support for whatever reason, when coming I to this world.I feel so passionate about showing what love this world has to offer.
Shell
- 29-Apr-22 @ 6:54 PM