Eco-Tourism Programs Abroad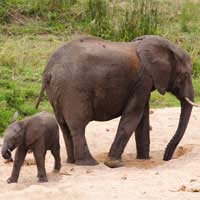 Eco-tourism or ecological tourism – to give it its proper name - can be best described as a form of tourism which minimises the damaging effects that tourism has upon the environment. It can involve the promotion of energy efficiency water conservation, wilderness adventures, wildlife programmes, sustainable development and the creation of an economic climate which can greatly benefit local communities, providing opportunities for them to prosper and to enhance their cultural integrity and to maintain their heritage and traditions.
There are eco-tourism projects all over the world which benefit greatly from voluntary help and we'll look at some of these in greater depth later but ideally, to qualify as an ecologically sound program, a project should fulfil various criteria. This should include some or all of the following:
The conservation of both biological and cultural diversity through protection of the eco-system
The sharing of the economic and social benefits of a project with local communities and indigenous people by obtaining their consent and enabling them to have a full participation in the project
To promote both environmental awareness and cultural knowledge
To minimise the impact of tourism upon the environment
To protect and educate people about local culture, wildlife, fauna and flora
How Does Conventional Tourism Damage Local Communities?
Tourism represents an opportunity to make a lot of money and the problem with this is that governments and local businesses can often make rash assumptions about what tourists are seeking when actually these assumptions can often tend to only represent a fraction of what tourists actually want. Therefore, situations that can totally devastate local communities can arise. Examples might include building hotels or a state of the art golf course in a location which means that local communities are forced out of their homes as they are demolished to make way for new developments and a sudden increase in tourists can often place an unbearable strain on things like a local community's water supply which, in certain regions, could actually prove catastrophic for the local community. Therefore, with an emphasis on environmental protection very much at the forefront of everybody's minds these days, sustainable tourism is something that we should all be looking to embrace. Here are a few success stories and may give you some ideas of locations in which you can volunteer to help.
Examples of Ecotourism Projects
The list of ecotourism projects in which you can work as a volunteer is immense. Protecting giant turtles on the Galapagos Islands or helping to preserve the Great Barrier Reef in Australia are just two of the more well known examples. Other areas where you might choose to volunteer could include:
Leopard monitoring and research in Sri Lanka for its protection and conservation
The protection of endangered sea turtles in Costa Rica
Reforestation programs in Ecuador
Building new schools in Peru
Marine conservation in Fiji
Elephant protection in Botswana
The list is endless and it's important to do your research as many programs involve upfront costs to you so you should do your comparisons first. Good websites to begin your research include Ecoteer, Gapyear.com, Responsible Travel and Outreach International.Whatever you decide, you can be certain to enjoy an experience that will live long in your memory and one which will give you the satisfaction of knowing that you have truly made an impact in protecting and conserving the environment and cultural heritage of local communities, wildlife, flora and fauna so that they can be enjoyed by future generations too.
You might also like...
looking for a place where my daughters also can partecipate (16 years).
Chrisse
- 31-Jul-12 @ 7:48 AM
hi. i would like to go to do voluntary work with animal, as soon as is possible. i have graduated on the university in zoology. what do i have to do for choose some programme. thanks for answer, Katka
katka
- 6-May-12 @ 3:09 PM
i am 35. iwould like to go to asia this year for 6 months as volunteer worker.it is possible and how much i have to pay for everythung?please answer me.thanks.
JACK
- 27-Jun-11 @ 3:34 PM
Hi, can i know more about the conservation and research programme in Sri Lanka? Am myself a tourism teacher in Singapore, and have always been interested in doing such work. Regards Kevin
Shorty
- 25-May-11 @ 2:04 PM
I do not have a work visa, would I still need one for voluntary work? I am 48 and have no ties or committments back here in NZ and wouldn't mind change.
Debbie
- 1-Apr-11 @ 10:04 AM