Working for the VSO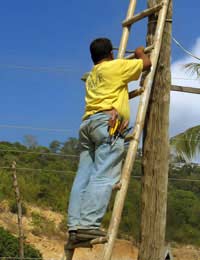 Voluntary Services Overseas is an international charity where experienced volunteers live and work alongside local people in the countries in which they are placed. It is involved with issues such as HIV and AIDS education, health and social well-being, disability, governance and participation and securing livelihoods.
Types Of Programmes
VSO have a number of programmes aimed at different types of volunteers. There are Volunteer Jobs which are aimed at skilled and experienced professionals who come from a range of backgrounds but usually have some previous experience in areas like education, health or business. These placements usually last between 1 to 2 years and are open to volunteers aged between 20 and 75. For this kind of placement, you'd be required to hold a professional qualification in your specific field and have between a minimum of 2-5 years' post qualification service within your chosen occupation. Specialist Assignments are also aimed at experienced professionals but run for a shorter period of time (approximately 1 to 6 months) to meet the needs of a specific project. Then, there are two youth programmes for volunteers aged between 18 and 25. There's the Global Xchange programme which is a team-based initiative running for 6 months which gives young people from different countries the opportunity to come together and work in the UK for 3 months on various projects in order to develop valuable skills and then another 3 months in the exchange country. The Youth for Development programme is more for younger people in the UK who have had a year's voluntary experience elsewhere or have completed a year of community work which gives an opportunity to work overseas in support of VSO's development goals in one of the 34 countries (mostly in Africa and Asia) where it operates.
Can I Choose Where I Work?
Not usually. Successful applicants are usually recruited to a 'pool' as opposed to applying for specific jobs in a particular location. A suitable 'pool' of volunteers is then selected to go out to a country where the VSO feels their skills can collectively be put to the best use. You are able to state your preferences but it's important to be flexible to allow VSO to make the most productive use of their pool of resources. You will not, however, be asked to work in a location where there is any immediate threat to your safety caused by war, natural disaster or civil unrest.
Partners And Children
Couples are welcomed by VSO and it's often a lot easier to find them placements if they both have the same (or similar) particular skills, e.g. medicine or education. It is, however, far more difficult to place couples with different skills within the same region and sometimes it's even difficult to ensure that both of them are placed in the same country. For those couples with children, there can also be frequent difficulties in finding suitable placements because of issues such as education and childcare provision and limited medical access facilities.
Likewise, a couple where only one of them is intending to work as a volunteer is also difficult to accommodate due to issues like obtaining visas for the non-participant, and cultural issues in certain areas surrounding unmarried couples and same sex couples also often make obtaining placements a lot more difficult. Couples who are fortunate enough to get placed can join any of the programmes with the exception of the Specialist Assignment programme because of its shorter length.
Retirees
Retired people are very much welcomed by VSO who see the value in their patience and maturity but they would also be expected to have had some kind of recent work experience and have kept abreast of developments within their chosen skill sector.
The Application Process
The application process involves completing an application form and then, if successful, you'll be invited to an assessment which includes a number of group activities and an individual interview. Once accepted onto the programme, you will receive financial support in terms of VSO arranging your return flight, accommodation, medical and travel insurance cover, obtaining visas and work permits, organising your national insurance contributions whilst you're away and you will receive a modest salary which will be paid directly by your employer but which will be on a par with workers' pay in the country you're going to.
VSO will also support you professionally. For example, they'll arrange and pay for any training you may need before you go and you'll also be offered personal support whilst overseas for things such as any major medical, personal or security problems although it will be your employer who will be your primary source of personal support. You'll receive grants paid to you before during and after your time overseas and, if you are on a programme lasting over 6 months (i.e. not specialist assignments), you'll also be entitled to a minimum of 3 weeks holiday per year.
Therefore, if you are looking to volunteer your services abroad, particularly in Africa or Asia, VSO is probably the most well-established organisation for helping you achieve your aims.
You might also like...