Teaching in Developing Countries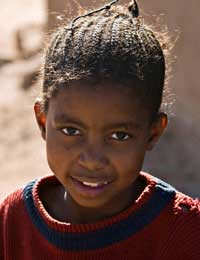 One of the many benefits of this kind of work is that you'll get to experience a completely different culture on both a social and economic level. It can be very challenging – living conditions can often be primitive for example, but it can be extremely rewarding in that the people you are helping will be keen to learn and extremely grateful and you'll end up forging friendships that will last a lifetime.
Teaching English
Learning English is probably the most highly sought after skill in the developed world today. It's increasingly becoming a universal language thanks, in part, to the growth of the internet, which has done more to spread Western influences – for better or worse – than any other mechanism and those who can't communicate in English these days are often at a disadvantage.
You don't need to have a degree or even an A level in English to undertake this kind of work. Remember if English is your first language – it comes naturally to you. And, contrary to popular belief, you don't always need to have a TEFL (Teaching English as a Foreign Language) or TESOL (Teachers of English to Speakers of Other Languages) certificate before you go overseas, although either of these qualifications are very useful if you have them before heading off. Some organisations will enable you to obtain them whilst you're there and others won't require them at all.
Would I be Suitable?
It will be you as a person and your own characteristics and personality over and above any qualifications that will determine your suitability for this kind of work. You need to enjoy working with people (especially children), have a lot of patience and possess good leadership qualities. It can be hard work as well as being a lot of fun too.
Are there other Subjects I can Teach?
Yes, in addition to English, those with specific skills in Maths, Biology, Geography, IT, Design Technology, Sports, Engineering and many more subject areas can also find useful work teaching in developing communities overseas. And, whilst you'll need to prepare your own lessons, you'll receive help from local teachers and school principals.
What are the Benefits?
From the perspective of the benefits of those you are teaching, they will learn new skills that will hopefully provide them with a better future. For example, learning English might enable them to get into a better university or open up the possibility of them being able to lead a tourism project within their own country, which in turn builds up their prosperity. An engineering teacher might be able to pass on skills to help local people build a well for water in their community, for example, which would actually save lives and there are many other examples too.
For yourself, you'll get an enormous amount of satisfaction from being able to pass on your own skills and knowledge to people who will appreciate it greatly. For many volunteers, it can be a stepping stone to deciding whether or not teaching is right for them when it comes to returning to the UK and will also build up your confidence in interacting with pupils and being able to retain interest and authority whilst knowing that you are making a huge difference in the lives of others who will be highly reliant on the skills you are passing on to them.
Other Issues to Consider
Teaching in developing countries isn't for everyone. Watching a TV programme about an underdeveloped country is not the same as experiencing it for real and you must be prepared to go without certain 'luxuries' and even, in some cases, the basics that you have become accustomed to in the UK. You'll see extreme cases of hardship too but amidst all of this, you'll get to experience so much joy and happiness in the simple things in life that count – an experience which will change your life forever.
Some organisations will charge you for the privilege of flying you out and giving you accommodation whilst others will pay for this and offer you a small stipend for your services. A good place to start your research is to visit organisations such as VSO and Christian Aid and there are many other organisations out there that specialise in finding work for those who wish to volunteer to teach in developing countries.
You might also like...
@Hannah. You have not included your location so we can't help with specifics but there is a very useful website called
Do It.org.uk
where many organisations add their opportunities. There is scope to add your own location and specialist area too.
VoluntaryWorker
- 19-Sep-14 @ 12:16 PM
Hello, My name is Hannah, I have just graduated from university with a Geology degree. I am interested in local volunteer work within my local area or potentially volunteering abroad possibly with children, teaching English, Maths, Science etc. Please could you inform me with what positions are available. Thanks,
Hannah
- 18-Sep-14 @ 2:09 PM
I m 22years i have experience in teaching infants (children) i like 2 volunteer in children email me
shadia
- 17-Aug-14 @ 12:23 PM
im looking to do somthing along the lines of whats desribed, dose anyone know of a organisation that i can join?
shawtii
- 23-May-12 @ 12:18 PM
I am keen to work abroad with young people, I will be finising my university career soon. I have worked in schools as an Englis Teacher, i would like to teach children or adults.
jack
- 24-Jun-11 @ 12:18 AM
I am a year 12 student and I am very interested to volunteer during my summer break, either in 2011 or 2012, as I wish to pursue a career in health care.
Student
- 29-May-11 @ 10:42 AM
I am keen to work abroad with young people. I have a degree in geography and also I am qualified football/soccer coach at FA level 2. I have worked in schools as a TA for the last ten years-time to move on!
woody
- 21-Mar-11 @ 3:12 PM