Volunteer With Your Local Fire Service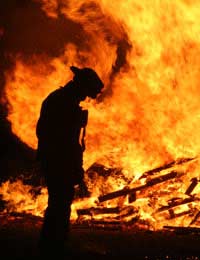 One of the most important emergency services operating in the United Kingdom is the Fire Service. Called upon 24 hours a day 365 days a year the fire service answers thousands of emergency calls ranging from serious industrial accidents to car accidents to house fires.
However just like each of the other emergency services operating in the United Kingdom today there is a shortage of staff which can have a knock on effect if the number of emergencies rises unexpectedly which sometimes happens.
When this happens the fire service calls upon their auxiliary staff who are on-call 24 hours a day and who often hold down full time jobs of their own or indeed are self employed business people.
Indeed sometimes as with the coast guard, the fire service calls upon its volunteers to help deal with emergencies in remote areas of the country where having a 24 hour manned fire station is not always practical.
How To Become a Volunteer with the Fire Service
If you are interested in becoming a volunteer fire fighter then you must be physically fit. This is very important and something which is thoroughly investigated before any offer of a position is made. Also you must be some – if not all – of the following:
Live within 5 minutes of the fire station
Be over 18 years old
Be honest and trustworthy
Have good eye sight and hearing
be able to attend residential courses as and when required
Be committed to providing your local community with a high standard of volunteer service
Of course these volunteer positions are not just open to men and indeed many women have taken the reins as volunteers also.
What The Role Contains
As a volunteer fire fighter the main focus of your role will be to provide additional support for the full time fire fighters who are trained to fight both exterior and interior fires.
Also you will be charged with the task of helping the injured and wounded to safety as well as keeping the general public out of harm's way. One of the most common areas of a volunteer fire fighter's remit is crowd control. Human nature dictates that many of us would stop and stare if we saw a fire blazing so keeping the public back is a necessary and important function for any volunteer to perform.
Applying to Become a Volunteer Fire Fighter
Your first course of action should be to contact your local fire station. The Chief Officer will be able to discuss with you informally the nature of how to apply and what exactly the fire service is looking for from its volunteers.
Also if you have access to the Internet look up your local fire service recruitment department and contact them with reference to receiving an application pack. Some fire services allow you to download this from their website as a PDF document.
You should also be aware that literacy and numeracy are pre-requisites for these volunteer's positions and your local fire service recruitment officer can tell you what are the best qualifications to have and how to achieve them if you currently do not possess them.
You might also like...
I would love to be a firefighter, rescue and disaster first respond volunteer in Scotland. I've been volunteering as a first responder volunteer in UAE for 3 continues years and I received an advance training on emergency response for medical involvement and fire fighting and community police. I do have my volunteering training certificates. Can I still join the fire department and work on fire engines or in stations since I use heating air devices and you mentioned I should have good hearing here in UK to be a volunteer (which was okay to be full volunteer in UAE with hearing devices)
AHK1984
- 7-Dec-21 @ 11:37 AM
Is they any cadets to do with firefighting for 27 year olds or volunteering on hull
Atlantis
- 4-Nov-19 @ 7:49 AM
I wanted to be a fire person when I was a teenager but as I'm female and weighted about 8 stone I'd mention this to people and they'd just lol. Nobody said to me why don't you bulk up and you could be! I just accepted my body type could never be a fire person. When I'm bigger I'm definitely going to look into it more! Believe in your dreams :)
Rue
- 22-Jul-19 @ 8:08 PM
I would like to have a good try at some volunteer firefighting experience to see what it would feel like to act like a true and realistic firefighter as long as i have some good experience at firefighting skills i would also show some interest of becoming a firefighter myself one day in the future because that is my only dream job. I really want and I would like to be a volunteer firefighter at my local fire station in northfield my name is joseph jevons and i live in grovely lane longbridge. Im 24 years old.
Wolf
- 24-May-19 @ 9:15 AM
Hi how long is a residential course , I'm in Mangotsfield 5 min away from a fire station. Are we on call all the time or certain times ,? Many thanks
Mo , moesha, Romeo ,
- 14-Apr-19 @ 6:55 PM
Hello there I am interested in joining the fire service. At this moment I am unemployed so have a lot of time on my hands I am willing to do volunteer work to help the service but would also be interested if this could lead to a paid job with the service thank you.
WEBBA
- 11-Dec-18 @ 1:04 PM
ever since i did a course of knowing what it is like to be a firefighter i have wanted to be a firefighter so i want to volunteer it is my dream to be a firefighter i live near a fire station in Newport.
Taz
- 29-Oct-18 @ 2:06 PM
I would love to become a volunteer with the fire service,not to become a firefighter but to fund raise at events.
Megan
- 8-Jul-18 @ 3:37 PM
I worked in Civil Aviation Authority as rescuer and aerodrome firefighter for 12 years. How can I now be a volunteer with this service.
Mike
- 29-Aug-17 @ 7:10 PM
Serena- Your Question:
I have been working over twenty five years as a counsellor/therapist.I am higly qualified and experienced humanistic and psychodynamic therapist and BACP register. I have worked in variety od settings and roles and I have the ability to rapidly implement policies and procedures of any given organisation.I would like to offer free counselling sessions for all the man and women fire fighters who have involved with at the Grenfell Tower.
---
Our Response:
That's a lovely thought. It's probably easier to contact the fire service directly on tel: 020 8555 1200 or email: info@london-fire.gov.uk
VoluntaryWorker
- 19-Jun-17 @ 2:40 PM
I have been working over twenty five years as a counsellor/therapist .I am higly qualified and experienced humanistic and psychodynamic therapistand BACP register. I have worked in variety od settings and roles and I have the ability to rapidly implement policies and procedures of any given organisation. I would like to offer free counselling sessions for all the man and women fire fighters who have involved with at the Grenfell Tower .
Serena
- 16-Jun-17 @ 9:06 AM
Hi, my name is kane and some people call me "shorty" ever since I was 3 years old I have always wanted to become a fire fighter , I always wanted to help people in need, I currently have a job as a bin man at AVDC council but the one job that I would love to do is be a fire fighter, and I hope that in the near future my hopes and dreams will come true , I'm 23 years old and I want to make something out of my life , thanks for everything kane aka "shorty" .
Shorty
- 14-Jun-17 @ 8:49 PM
Hi I would love to volunteer at my local fire station I live in hull and just wounder if they was anything I could do to volunteer
Rizzo
- 26-Apr-17 @ 9:08 PM
I own a landscaping and lawn care business in Glasgow , and would love to become a volunteer fireman in my local area. Male. 33. 6ft 2in.
James
- 30-Jan-17 @ 12:28 PM
Hi, I have experience about 10 years in Iranian Gas Company(Hashemi nezhad Gas Refinery) as a fire fighter and fire officer.I'd like to be a valunteer fire fighter inLondon.Please let me know, How can I do it?!! Thank you for your time. Best regards,
Vici
- 24-Jan-17 @ 4:31 PM
I am 14 and have wanted to work at the fire service what grades would I need
Anna
- 29-Nov-16 @ 12:19 PM
I would like to apply as for a form for the fire service over the festive period . I'm an unemployed electrical tech. I've also been in property that have had fire damage. Ewin Williamson should never have died in those circumstances. I am an ex employee of the offshore oil & Gas industry. My ph. Is . 07731378652 . My current address is 26/1 Moat street , Edinburgh , EH14 1PJ , thankyou . David Ramsay
Spike
- 24-Nov-16 @ 10:59 PM
I think there may be some confusion here.The article is referring to on-call firefighters (often called retained firefighters).They are not strictly volunteers - they get paid for their time and have to undergo rigorous training.They often tend to have other jobs and are 'on-call' in case they are needed.On the other hand, volunteers with the fire service tend to undertake preventative activities, talking to the public about fire and road safety.Hope this helps!
Claire
- 31-Aug-16 @ 2:47 PM
Hi what hours would I be doing if this thanks Matt
Matt
- 10-Nov-15 @ 8:41 PM
Mmy narest station is on the Fitzwilliam road in Rotherham, as I don't drive I was wondering what voluntary jobs can I do within the station?
Jambo
- 20-Aug-15 @ 9:25 PM
@Juy. Ask at your local fire service (the non-emergency number will be found if you search for fire service and then your location).
VoluntaryWorker
- 30-Jun-15 @ 11:12 AM
@RFSProby. This should help in your application to become a firefighter volunteer here the UK.
VoluntaryWorker
- 29-Jun-15 @ 2:18 PM
Hi, I am a qualified operational firefighter who worked for 22 months in Singapore as a 1LT. I'm currently a student in the UK, and I wish to give back to the community by volunteering with the fire brigade. I am unfortunately only free on the weekends since I have lectures and supervisions on the weekdays. What should I do? Regards, Chia
Juy
- 26-Jun-15 @ 4:39 PM
With me soon immigrating to Manchester from Australia, I'm wondering if if it's enough me having been a probationary trainee in the Rural Fire Service of Australia (volunteer).
RFSProby
- 23-Jun-15 @ 10:42 AM
@yoonus. Hope the information in the article helped. Good luck!
VoluntaryWorker
- 5-Jun-15 @ 11:11 AM
How hard is it to try and even apply for the fireservice???? Id love to volunteer
Yoonus
- 2-Jun-15 @ 7:21 PM
@Nicole Russell. Sounds like you are well suited to a role within the fire service, good luck!
VoluntaryWorker
- 19-Dec-14 @ 10:34 AM
I am strong, reliable and hard working as a person and I am always generally concerned for the well being and safety of others. I am quick and efficient. I look after myself well and like to keep fit and healthy. The chance to progress in a career with the fire department would mean a lot to myself and to help in the community is my goal, especially with the mentoring skills and interest i have. A role to work alongside and assist the fire fighters in the best way i can is the kind of hands on work I work well at. I am gaining qualifications to match my life experience and reach my full potential to help make a difference under high pressure situations. I enjoy helping people and learning new things.
Nicole Russell
- 18-Dec-14 @ 2:05 PM
The information above is incorrect, mostly the statement that volunteer firefighters don't fight fires inside buildings. That is untrue.
Johnny
- 5-Jun-14 @ 9:46 AM
Could you please advise which fire services are offering volunteer firefighter positions?
LAJ
- 15-Apr-14 @ 2:38 PM