Hospice Volunteering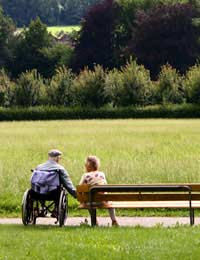 The hospice movement was largely moribund until the 1970s but since then it has become a part of local life and today hospice volunteering is a major part of the social economy of the UK.
The Value Of Hospice Volunteers
While figures vary, there is broad agreement that more than 100,000 people volunteer at hospices across the UK every year. Their voluntary contributions are vital to the work that hospices do. Umbrella organisation
Help the Hospices
conducted a survey in 2006 which estimated that the financial value of these volunteers to the hospice economy was in the region of £112 million – if hospices had to pay for those services, their costs would rise by nearly 25%.
In a 2011 survey by the Centre For Health Services Studies department at the University of Kent 79% of hospice users felt that there were always enough staff and volunteers around to meet their needs, proving that the role of volunteers is essential to the mental, emotional and physical wellbeing of those who require hospice care, whether as residents or day visitors.
What Is A Hospice Volunteer?
While many people think that hospice volunteers always work directly with patients, the roles available are varied and wide-ranging. Volunteers may spend time with patients or with the families of patients, may work as administrators, as teachers and therapists or may just help to raise funds and maintain the facilities. This list gives some idea of the scope of voluntary work available:
Drivers bring patients to and from day care facilities
Receptionists greet visitors and patients and help them move around the building
Catering volunteers may cook, or serve meals and refreshments
Therapists may volunteer their hairdressing, manicure, massage or other expert services
End of life volunteers are trained in bereavement support and counselling to help families plan for the inevitable
Maintenance volunteers may work in the gardens or on the fabric of the building or may just assist in cleaning rooms and keeping the place looking nice by arranging flowers
Event volunteers may organise classes or activities for people living at the hospice
Fundraisers may enter sponsorship events, organise auctions or fun days or just sell raffle tickets
Shop volunteers may run a charity shop at the hospice or outside it, selling items to raise funds for the hospice itself.
And this list is by no means exhaustive. As government cuts bite, and local authorities scale back their funding, every hospice is seeking out new ways to cut costs and involve local people more in the running of local activities. Above all, hospices now try to involve residents as volunteers and contributors to the overall wellbeing of the hospice, as those who use the services are best placed to know what is needed.
How Do I Volunteer?
The hospice movement is not homogeneous – each hospice has its own specialist role and ethos. Because many hospice founders had strong religious or spiritual principles, it's important to ensure you can fit in with the prevailing 'spirit' of a hospice and so visiting before you make a commitment is vital.
If you are worried about your ability to cope with emotional situations, you may wish to start by offering your services behind the scenes, until you become confident that you can deal calmly and sensitively with hospice users, and their families. Tasks in the administrative line, such as word processing, filing, sending out funding requests, counting and banking monies received from shop and catering sales etc are all voluntary roles that can ease somebody into hospice life more generally.
Volunteering to work with patients may mean being assigned to one individual or working with whoever is around on the day: helping with meals, playing games and quizzes, chatting, playing cards or assisting with craft projects are all typical activities.
Unusual voluntary roles include bringing in therapy dogs and cats to spend time with residents – this requires training and certification but is a very rewarding and sought after activity that many consider if they have a calm and loving pet.
Volunteer Fundraising
For those who cannot commit to attend a hospice on a regular basis, fundraising can be a great way to make a contribution to the continuing success of a local hospice. Many hospices run large annual raffles for which they require ticket sellers and this can be a way to ease into the complexities of charitable funding.
If you are sporty, you may like to run, cycle or swim an event for your local hospice. Marathon runners, triathletes and others often raise funds through their sporting prowess and may then be invited into the hospice to give a short talk to the residents or day care users about the event they took part in. This is a fantastic way to engage with a hospice and can bring excitement and a sense of engagement to both athlete and hospice users.
You might also like...
Hi would love to help out ie soup kitchen ph lineshospice in bury st edmunds
Sandy
- 23-Nov-18 @ 5:20 PM
I'm really interested in helping out in a hospice in wilcher..if it's only helping with cooking talking to patients takeing them to appointments etc...I have no special talent but iv got a big heart and I would love to help in eny way I can I'm also catholic.
Liz
- 30-Oct-18 @ 11:33 PM
I would just love to volunteer with the Hospice in Kirkcaldy Fife Scotland. I looked after and nursed my parents and my husband for 25 years. My father was the only member of my family to pass away in the the Kirkcaldy Hospice the nurses and doctors were amazing and i feel now that i am able to now help others by becoming a befriender.
Megan
- 8-Jul-18 @ 3:32 PM
Help In kitchen Also have a loving cat that would enjoy extra love
Lesley
- 22-Mar-18 @ 2:14 PM
I would to help in a hospice kitchen or reception in my area which is Durham Also have a very loving cat that enjoy extra attention
Lesley
- 22-Mar-18 @ 2:13 PM
Lozziemai - Your Question:
Hi, I am 16 I am looking to volunteer evenings and alternative weekends. I have a anxiety disorder and looking to raise my self esteem and confidence. I have a very older head on my shoulders, I am very trustworthy and am very understanding. I love being around people and would be interested in helping out whereever I can
---
Our Response:
Try your local Council for Voluntarty Services (your local council or Citizens' Advice will be able to direct you). Alternatively the
DO it website
has locally advertised volunteering opportunities.
VoluntaryWorker
- 21-Mar-17 @ 11:30 AM
Would love to volunteer either hospice or soup kitchen. Have lots of spare time happy to help where needed. Thanks
Hi, I am 16 I am looking to volunteer evenings and alternative weekends. I have a anxiety disorder and looking to raise my self esteem and confidence. I have a very older head on my shoulders, I am very trustworthy and am very understanding. I love being around people and would be interested in helping out whereever I can
Lozziemai
- 18-Mar-17 @ 10:14 AM
Would love to give time healing and help to all who need it I live in northants angel blessings angela
Butterfly
- 27-Dec-16 @ 3:30 PM
Would love to help this Christmas eve wherever needed.hospice. soup kitchen.phone lines. Email me if your short on volunteers..Be a pleasure to help. Steve Manchester area
steve
- 18-Dec-16 @ 11:50 PM
Hi i would love to find out more info on the roles of volunteers in the stoke on trent are i would like to have the chance to work within the homeless hospices or the domestic violence sectors please if anybody has any info on any of these sectors please dnt hesitate to make a suggestion. Kind reguards. Donna
Donna
- 27-Oct-16 @ 1:12 PM
I am a teacher and I was doing a counselling course and completed 80 hours training. Now with time to play with I would like to volunteering in reception, end of life support or events organiser/promotion. I would be grateful to hear your suggestionof organisations I should contact. Kindest regards. Liz
Lizzy
- 10-Oct-16 @ 10:46 AM
I would love to love to either volunteer on either help cooking with meals on wheels or hospice shops I live in weybridge
Val
- 18-Apr-16 @ 8:23 PM
Would love to volunteer by talking and playing cards/games whatever I can do to help in the basingstoke area. Can you point me in the right direction or email me some info please.
Zoe
- 27-Nov-15 @ 10:45 PM
Would love to help out and listen to people in need , would be very happy to volunteer .
Kirsty
- 16-Jul-15 @ 7:05 PM
Hello, I work as a Health Trainer in London promoting healthy eating, physical activates and wellbeing. In my spare time I teach Qigong and would like to offer my voluntary services as a Qigong instructor to your organisation. Qigong is an internal energy exercise popularised in China, it can promote calm, relaxation and a sense of wellbeing. Referred to as the grandfather of Tai Chi, Qigong is easy to learn but and can enhane inner peace. If you think Qigong would be useful for your organisation or would like more information, please let me know. Kind regards Garry
paleon183
- 16-Apr-15 @ 10:06 AM
I'm looking to volunteer my beauty skills
Chelle.
- 4-Mar-15 @ 6:50 PM
I want to volunteer to help other,
Tessa
- 16-Aug-12 @ 12:19 AM
Hello, I am a trainee psychotherapist in my second year of MA. I would like to know if you offer counselling placements. Please if you do offer placements, would you send me an application form? Thank you very much, Regards Maria Garcia
Maria
- 25-Jun-12 @ 6:15 PM