Working on an American Children's Summer Camp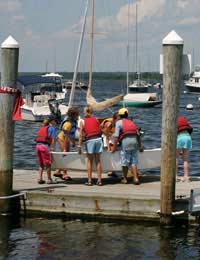 Working on a summer camp in the USA is a fantastic way to spend the summer months. Your commitment will usually be from early June until the middle of August approximately. It's not strictly speaking, a 'voluntary' job as you do get your flights, working visa costs and other admin costs, food and accommodation thrown in and you do receive a small wage at the end of your 8-9 week contract. However, it's more about spending the summer having fun with kids and experiencing the American culture with the opportunity to travel for a few weeks after the camp season is over which gives it its appeal. So, if you want to spend 9 weeks or so in, what's often a magnificent woodland setting close to a lake surrounded by people from different nationalities and perhaps a couple of hundred excited screaming kids aged anywhere from around 5 up to 16, then this type of work might just be for you.
Working as a Counsellor
The role of a camp counsellor can vary depending on what sort of camp you work at. In general, however, the basic role involves being responsible for the welfare of a small group of children (maybe 4-6) for the duration of the summer. This usually involves living with them in a 'bunk' or 'cabin'. Basically, you'll be there to ensure they get up in the morning and get off to breakfast and then on to their activities and then to ensure that of an evening, they settle down to get ready for bed. Obviously, there's much more to it than that. You have to become a friend to the kids or perhaps even a surrogate parent, if, for example, you're having to deal with a kid who is homesick. You need to ensure that the bunk runs smoothly and that your charges behave in the right manner and fulfil their chores dutifully.
You need to make sure they're keeping on top of their hygiene – young boys especially can be prone to being highly reluctant shower-takers at camp so it's important you keep an eye on that. But basically, you're there to look after the welfare of the kids and to have fun with them. Apart from your bunk/cabin responsibilities, you'll spend your days working at an activity you specialise in to which all the kids on camp will take turns at coming to. Perhaps, you'll be teaching football skills – don't worry, you'll soon learn to call it 'soccer' (pronounced 'SAR-KER' over there). Alternatively, you might be a woodsman and spend your days teaching outdoor survival skills to children or you might run a video workshop or teach windsurfing, archery or tennis.
On most general camps, there tends to be an emphasis on water, field and land sports but there are many camp counselling jobs in the arts and crafts side of things too and, if you don't fancy living with or teaching kids, there are other ways of working at a summer camp without having to be responsible for the children's welfare nor will it be your role to amuse them. Here are a few other ways you can get involved.
Working in the Kitchen
A summer camp can often have to cater for well over 300 people, accounting for children and staff, and even more than that on some of the largest camps and this means plenty of hungry mouths to feed. An alternative to working directly with the kids is to work in the kitchen assisting the cooks. Don't worry, you don't need to be able to cook like Jamie Oliver and the mood isn't like Hell's Kitchen, but you'll be up in the morning before the rest of the camp helping to prepare breakfast and then cleaning up after it then prepping for lunch, then cleaning up again, then prepping for dinner and so on and so forth. The kitchen and maintenance 'crew' tend to all share bunks of their own (and with no kids to look after too!) away from the main action and so, if you don't mind the heat of a kitchen and the routine nature of the role, then perhaps this is a better option for you. p
Working On the Maintenance Team
As with the kitchen crew, you don't need to be a wizard on the tools here, just reasonably adept at using your hands. There'll be toilets to unblock from time to time and loose taps to fix, mosquito screens will need to be hammered in place or replaced and camp equipment may need repairing, a boat sail may need replacing for example. Also, as many summer camps often pay homage to their Native American ancestors, you may also be responsible for building camp fires from time to time.
There are other roles within a summer camp as well. You may wish to work in the laundry or perhaps help out with the admin in the office.
Types of Camp
There are many different types and styles of camp. Some may place a heavy emphasis on sports, others on arts and crafts an some have more of a religious ethos than others. Some will be for boys only, others for girls only and some will be 'co-ed' – i.e. both boys and girls. Obviously, if you are working at a single sex camp and you are the opposite sex, you wouldn't be expected to share a bunk with children of the opposite sex.
How Do I Go About Applying?
The 3 main organisations you should research if you're planning on doing this type of work are Camp America, BUNAC and Camp Counsellors USA (CCUSA). You'll complete an application form either at an open day or by applying direct and you'll be interviewed here in the UK and then approved. Most people are approved so don't be put off by the term 'interview' here. Then the organisation will do all the necessary paperwork and will find you a placement based upon your skills, preferred job choice and any other preferences you've told them about on your form and at interview. They'll then organise your flights for you and arrange your first night's accommodation in the USA alongside helping you organise your onward travel (usually by Greyhound bus) to your camp. Once there, most camps will usually have an orientation week which will include team building morale sessions for the staff and there'll often be a child psychologist or somebody similar to give talks and advice on dealing with issues that children might have such as homesickness, bullying etc.
It is a fun way to spend a longer period of time in the USA without running up great expense. Granted, you won't come away with pots of money at the end, perhaps somewhere in the region of £300 to £500 for your 8 to 9 week contract after all your costs for flights, visas and administration are taken out, but given that you're taking advantage of the free food and board for 9 or 10 weeks as well, your final salary will be roughly comparable to the cash sum that Americans will get over the same period and their earnings are subject to tax as well. And, should you return to the same camp in subsequent years, your salary will increase to reflect that.
For counsellors, it's important to note that some camps operate a curfew policy and time off is extremely limited and you might only receive 6 days off throughout the whole summer. For other types of staff, these restrictions may not apply so it's important you find out what the camp's particular policy is with regards to nights out and time off. The vast number of camps are also located in relatively isolated locations so don't be expecting the bright lights of the city on your nights off. And, remember that cigarettes and alcohol consumed on the campus itself is more often than not, a complete 'No-No'. The USA is the ultimate when it comes to the ''hire 'em and fire 'em'' society so unless you're prepared to tow the line and obey the camp rules which are only there to safeguard the children, you could find yourself out of a job (and thus a roof over your head) sooner than you think which might be tricky given home and the UK is at least 4000 miles away or thereabouts.
You don't need to be a specialist 'teacher' or 'counsellor' but you'll often need to have had a year of post high school college behind you or to be accepted because you have a specific 'niche' skill before you can be accepted as a counsellor. As long as you have an abundance of energy and enthusiasm and can befriend kids as well as being able to control them, then it's often the case that many counsellors and those who work in the kitchen and on the maintenance, office or laundry side, can return to the same camp from June to August year after year.
You might also like...
Sounds lots of fun as I have experience and qualifications I should be a great help to that team over the pond
Lollopop
- 23-Aug-20 @ 10:46 AM
Dear Madam or Sir, I have experienced different field search from child to environment in Iraq and Turkey. I am really appreciate to leave to different countries to come across different culture and to improve myself. I'm interested in voluntaring in American Children's Summer Camp. Where I can get more info about it and whom i should apply for?
Ness
- 6-Jul-18 @ 12:28 PM
I'm 45 , have a couple older teenagers girls and had cancer in 2016 . Want to do something different, I'm people person , love fun and having teenagers know a balance in life and I know I've done a really amazing job and want to spread the love , that I have in me Vicki
Vicki
- 20-Dec-17 @ 1:10 PM
@Dom and @Justin: you need to research Camp America, BUNAC and Camp Counsellors USA (CCUSA), these are the three main organisations that hire staff for USA Summer Camps.
Abbie
- 19-Jul-12 @ 11:03 AM
Hi really interested in in Ur program , I am currently studying my a levels in English language ,geography and sociology in the future I aim to become a primary school teacher , I also give an hour a week to a local primary school as a reading mentor which I really enjoy at the weekend I have a part time job in a busy restaurant . Im looking to get involed with ur progame the summer of 2013 I will be 17 years old at the time. How do I get involed and would i be some one ur looking for ?? Thanks Dominique .
Dom
- 19-Jul-12 @ 10:44 AM
Hello. I'm interested in voluntaring in American Children's Summer Camp. where i can get more info about it ?whom i should aplly for?
Justin
- 7-May-12 @ 4:38 PM
what does it take. i have a good qualification for a job as a volunteer
none
- 28-Nov-11 @ 1:53 PM