Student Volunteering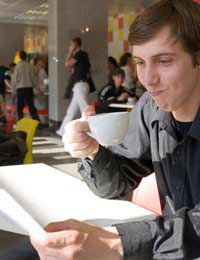 Student life gives you many different opportunities and whilst some students would claim that there is little enough spare time to fit in anything else in addition to their studies, homework and hectic social commitments, there are many who will also include volunteering to their long list of commitments whilst at college or university. Now, there may well be some students reading this who might think, "What…Why would I choose to commit X number of hours each week for no pay when there's already not enough hours in the week?". And, whilst that might be a typical response, this article will hopefully go some way towards convincing you that giving up some of your time in some form of voluntary capacity, might actually be very beneficial to you.
Character Building
For many students who don't have an awful lot of work experience or, perhaps even 'life' experience, volunteering is a great way of character building. It can give you a real sense of purpose and achievement and is a further opportunity to meet different people from all walks of life and to make new friends. Additionally, it can also enable you to truly determine the type of career that you might wish to pursue following your studies. Many students often go off to college and university with only a vague notion at best of what career path they'd like to take after they graduate and by trying out one or more carefully considered voluntary roles whilst studying, it can often help you to rule certain career choices in or out which you might be considering.
Good for Your CV
When you consider the thousands of fresh new graduates that emerge from colleges or universities each summer, all with high hopes and perhaps ambitions of getting that chosen 'dream' career up and running, have you ever stopped to think you will be just one of thousands thinking the same thing? Therefore, when you send off a job application or CV, how do you intend to stand out from the crowd when it comes to impressing HR departments? Volunteering whilst studying is one of the ways you can do that. In fact, research suggests that most typical graduate recruiters would choose to select applicants for interview who had had volunteering experience in a related role to their chosen career than those who may have actually had a part-time job totally unrelated to their career so, in gaining a competitive 'edge', its well worth considering.
Work Placements
Although work placements can be paid, many are not and, whilst not falling into the traditional mould of 'charitable and good causes' volunteering for the most part, the fact that you are willing to give up your time for no money, means that it is still, in effect, a voluntary job. Many industries are always on the lookout for unpaid help and so competitive are some industries when it comes to job applications, the media being a prime example, that it's almost a pre-requisite that somebody has shown enough commitment to their chosen career path that they've been willing to work unpaid on a work placement previously.
A typical example of this would be someone who wants to work in the film industry and has previously had unpaid experience of working as 'runner' or 'go-fer'. The fact that you may end up doing relatively menial duties should not detract you from applying for a placement. Often, it's the fact that you've stuck something out for no pay and have picked up bits of experience in your chosen field which will give you the edge over other applicants who may only have academic qualifications to fall back on but have been nowhere near as pro-active as you have. These days, work placements can also count towards modules on your university or college course so it's also often a good way to escape the classroom environment and to try out new experiences which still count towards your qualification.
Combining Voluntary Work with Holidays Abroad
Children's summer camps in the USA are probably one of the best ways to combine voluntary work with the opportunity to spend some time abroad in the summer given you're probably on a limited budget. They are not strictly 'voluntary' positions as you do receive a stipend for your services and more information can be found out about this kind of work on another article contained within this website.
Traditional Volunteering
Of course, like anybody else, you may simply be drawn to offering your services as a volunteer because of your commitment and passion for a particular cause and that's fine too. Obviously, it will benefit your CV but there needs to be no hidden agenda, you might simply choose to want to give some time up for a particular cause. Charitable organisations will always welcome students and they're often sympathetic to the many other commitments you'll have during your student years and many of them will allow you a great deal of flexibility so that you can devote time to their cause without it being to the detriment of your studies or other commitments.
Like anything else, the important thing is to choose a voluntary role which you feel passionate about or interested in or one which will serve a purpose to you in the long run as it's a 2-way deal remember – you need to get what you want out of the experience too.
You might also like...
Hi My niece's 17 years old & she has a special needs (not sure what syndrome she has) but she's very keen to work as a volunteer,please let me know if there's anything for her
Amna
- 16-May-22 @ 9:49 PM
Hi I am 17 years old and would like to work as a volunteer to gain work experience.I love animals and especially dogs. I always wanted a dog as a pet and for various reasons could not have one. I would like to volunteer as a dog walker. Please let me know if there are any opportunities available. Thank you
Rach
- 10-Jun-20 @ 4:28 PM
WOULD LOVE TO BECOME A DOG WALKER
baby ruthie
- 22-Jan-15 @ 2:56 PM
Hi i amcurrently studying Health Wellbeing and Social Care at university of Bradford iam looking for a work placement or student voluntary experience. Please would you let me know if i can be able to do it.
Apple
- 5-Feb-13 @ 6:08 PM
I am a student in yr 12 and I am very keen on gaining any voluntary work experience, which would involve helping people or organising events. I can work flexible hours and I am willing to do a wide varities of tasks if and when required.
Student
- 29-May-11 @ 10:45 AM
Hello My name is Daniella and I am 17 years old.My brother is Antonio and he is 16 years old.We are originally from Mexico but we grew up in California.We are very interested in working as volunteers in Europe.We speak English and Spanish in case it helps. We would love to be with another students our age. Who should we contact? Please advice Kind Regards Daniella and Antonio
Danny
- 23-Apr-11 @ 2:56 AM