Volunteer as a Dog Walker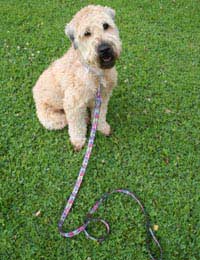 Volunteer dog walkers are usually employed by the likes of animal shelters and the RSPCA. They are able to provide the means by which a dog can take exercise and enjoy the socialisation and affection that all confined dogs need badly so that they remain healthy and happy animals. This is all done so that one day, they can, hopefully, be re-homed and be looked after by a loving and caring family.
Why Are Dog Walkers Needed?
Although dog shelters and other humane animal organisations do their utmost to care for dogs which are staying there because they have nowhere else to go, it's important to remember that due to the sheer numbers of abandoned and mistreated dogs, they all need to be confined to cages. Here, prolonged isolation and extremely limited activity means that a dog's quality of life is dramatically reduced and because that results in increased poor health and behavioural problems, the longer it persists, the less likely the chances are for a dog to be re-homed. Therefore, you'd be amazed at the amount of good you would be doing if you became a volunteer dog walker. Furthermore, you cannot fail to be moved by a dog that recognises you who is going to display sheer joy at seeing you, each time you drop by to take it for a walk.
How Do I Get Involved?
The easiest way to get involved as a volunteer is to telephone your local dog rescue or animal shelter centre or your local RSPCA. You will be able to find out the contact details in the phone book or on the internet. You don't need to have owned a dog before as you will be given an orientation, training and guidance as to what to expect before you actually take a dog out on your own. Initially, you'll also be taken out on a walk with a dog and one of the dog shelter's staff members so that you can get more of an idea as to the dog's personality and advised what you should and shouldn't do in any given situation.
Volunteer work as a dog walker is very flexible so, whilst it's very beneficial for a dog to get used to forming a relationship with you, you can fit the activity in very easily around your other existing commitments.
What Are The Benefits?
There are so many benefits to undertaking volunteer work as a dog walker. At the most fundamental level, you'll bring much needed joy into a dog's life. Exercise and companionship are crucial to a dog's fundamental existence and you'll have made a loyal friend who will always be glad to see you. Furthermore, dog walking is also often a good way to make other friends of the 'human' variety too. You'll stop and speak to far more people when out walking with a dog than you would have otherwise previously done so it has social benefits for you too. However, what is important is that you will be helping to prepare the dog for the ultimate aim of it being adopted by a loving family.
Dog walking is also a good way of getting some gentle exercise, especially if you need to ease your way back in to exercise after illness or an operation and getting out into the fresh air is proven to be both physically and emotionally beneficial.
Any kind of volunteer work is also looked upon favourably by potential employers and volunteer work as a dog walker might be a good place to start if you're thinking of entering any kind of profession which involves animal care.
You'll also learn new skills you probably thought you never had and it will bring out some personal qualities in you that you never knew existed. You may even find that it is the catalyst for wanting a dog of your own – maybe you'll even decide that you can't bear to be apart from your new four-legged friend and decide to re-home it yourself. That's not expected however.
Ultimately, as a volunteer dog walker, it's all about the love and time you'll be able to give a dog in need. And, you can be certain that for whatever time and effort you do give, you'll get back far more in return from your new four legged friend in terms of lovely experiences and warm memories which will last a lifetime.
You might also like...
Hi i would like to do some dog walking in the local area (Newton Abbot/Torquay, Devon) for my gold DofE?? Thanks
Cat
- 24-Jan-20 @ 3:49 PM
My husband and I are retired and we are interested in volunteer dog walking.We live in Bideford.How do we gi about this
Steph
- 20-Jan-20 @ 6:06 PM
My elderly neighbour is in desperate need of help walking her dog, she lives in torquay area , any help with exercising her dog or around the home would be greatly appreciated ,
Karli
- 8-Jan-20 @ 6:08 PM
I am semi retired and looking for dog walking opportunities in burton-on-trent area /south Derbyshire canyon send any information please.
Angie
- 1-Jan-20 @ 10:37 PM
Looking for a 4 legged friend to borrow for walks to keep me company
Jen
- 22-Dec-19 @ 5:20 PM
Hey I'm 14 years old and starting my bronze DofE award in January 2020. I have put down dog walking as my volunteer work so I would appreciate it if I could do it here? Please email me back Thanks
Kira
- 15-Nov-19 @ 10:55 AM
hi im 13 and i would love to walk dogs for DofE i need 30 hours of voulenteering please help
Chyna Crystal
- 1-Nov-19 @ 6:05 PM
I'm in strood kent and looking to volunteer for dog walking please can you email me with some information about dog walking please
DevilSouls82
- 14-Aug-19 @ 10:01 PM
I'm living in Salisbury and im looking to do some voluntary dog walking. Do you have any information on places around this area that need dog walkers please. Many thanks Kirsty
Kirsty047
- 17-Jul-19 @ 6:15 PM
Very much would love a little poochie,circumstances would not be fair though
Chops
- 26-Apr-19 @ 3:19 PM
Myself and my daughter would like to volunteer as dog walkers in Norwich. Wed love to have a dog but don't think it's fair to leave a dog alone all day, and neither do we really have the space
Becks
- 8-Apr-19 @ 2:37 PM
I would love to volunteer at an animal shelter can you give me any information please
Han
- 17-Mar-19 @ 7:57 AM
Ive always wanted to work with animals butunfortunatly didnt end up doing it.would to do some volunteer dog walking or anything in animal care.im in coventry so any openings plz let me know.
Big bird
- 10-Mar-19 @ 2:54 PM
Hi am 28 and I love dogs am looking to volunteer with pups or just dogs in particular I live in runcorn Cheshire couldyou get in touch please when a job comes available please
Kez
- 26-Feb-19 @ 4:27 PM
Hi I'm 14 year old looking for voluntary work with dogs or other animals I live in Bolton area if you get back to me I would love to hear more about this please
Megan
- 23-Feb-19 @ 9:17 PM
I am looking for a job walking dogs. As l love animals and would like. The exercise too.
Jim
- 18-Dec-18 @ 3:40 PM
HELLO I WASWONDERING IF YOU HAVE ANY VOLUNTEER JOBS FOR LOOKING AFTER DOGS. I AM AVA ILABLE AS SOON AS POSSIBLE. PLEASE GET BACK TO ME
BECKY
- 6-Nov-18 @ 10:47 AM
I live in leicester and would like to do some voluntary dog walking. Any vacancies nearby please?
Trish
- 19-Sep-18 @ 10:40 AM
Hi, I'm looking to volunteer as a dog walker, how could I go about doing this? I'd be very happy if I could get any useful advice. Thank you Abbie
Abbie
- 16-Jul-18 @ 10:55 PM
I'm 15 and really want to volunteer with animals preferably dogs but don't know how to? Any ideas?
Mizza
- 27-Jun-18 @ 8:53 PM
I like my animals I want volunteers to take dog for a walk
coolrabbit
- 14-Jun-18 @ 11:39 AM
Hi! I would love to do dog walks! I a have been looking for any place that is in the City, near Bank station & StPauls Cathedral. If any of you where would be a possibility to do that - please let me know ;).
Angie
- 7-Jun-18 @ 1:02 AM
I am looking for volunteer jobs looking after dogs
Becky
- 10-May-18 @ 1:34 PM
Hi I'm looking for volunteering to help walk dogs.. As I would benifits myself as well as the dig.. Getting out and excerise wise... Cheers jane
Jane
- 22-Mar-18 @ 4:40 PM
I'm looking for a job and I'm only 14, anything?? X
Brodie
- 17-Mar-18 @ 8:22 PM
Hi, I would love to be a volunteer dog walker around the Bromley Kent area. I've previously owned an energetic husky cross so I have experience with bigger and smaller dogs. It would really be lovely to be in the company of a pooch again to get me out and about! :)
Sharmz
- 4-Mar-18 @ 2:56 PM
Hi! I'm looking for opportunities to volunteer as a dog walker. If there are any opportunities please let me know! Based in Manchester/Wigan
Rachelms
- 24-Feb-18 @ 7:57 AM
Megsie08 - Your Question:
Hi, I walk with the aid of a walking stick & have 2 dogs which need exercising. I would love to find a volunteer dog walker who is willing to walk with me as I am finding it hard walking my two on my own especially since having surgery on my right hand & wrist. Any help would be greatly appreciated
---
Our Response:
What area are you living in? It might be worth putting up notices at your local vets or if you are on social media, try local dog groups etc.
VoluntaryWorker
- 6-Feb-18 @ 10:16 AM
Hi, I walk with the aid of a walking stick & have 2 dogs which need exercising. I would love to find a volunteer dog walker who is willing to walk with me as I am finding it hard walking my two on my own especially since having surgery on my right hand & wrist. Any help would be greatly appreciated
Megsie08
- 4-Feb-18 @ 11:11 AM
I am intersted in walking dogs keepin them company cleaning kennels anything really volantory !! Am in lincolnshire England ukthankyou!
Micky Miles
- 28-Jan-18 @ 4:42 PM