Volunteering to Help Premature Babies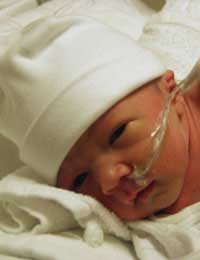 The life of a premature baby is fragile and stressed, and the family of such a baby are likely to also be extremely stressed and anxious. Physically, mentally and emotionally, the tiny babies and those who love them need all the help they can get. Fortunately there are a whole host of ways that you can volunteer to help.
Craft Volunteering
A large number of UK charities and organisations offer the opportunity to sew, knit or crochet clothing and other items needed to care for premie babies. Items needed range from premature clothes and blankets through to tiny burial outfits to give those little ones who don't survive a suitable and loving garment in which to be seen for the last time by their grieving relatives.
The items are made for the charity and then collected to be laundered so that they are free of all infection and irritation before being taken to special care baby units.
This opportunity requires you to have the necessary craft skills, to be able to work to a pattern and to either take your items to a depot or post them to an agreed address for onward transmission.
Courier Volunteering
Several motorcycle groups and charities have volunteer roles, transporting urgently needed donor breast milk, and blood, to neonatal units where the milk is given to premature babies to boost their immune systems and the blood provides transfusions for mothers who have complications resulting from their labour.
In rural areas in particular, the regular provision of donated breast milk can make a huge difference to a baby's survival by reducing the risk of infection. It gives the tiny babies optimum nutrition as well as reducing their vulnerability to infections and viruses. A mother who isn't producing milk may be very stressed about her baby's health and that can, in turn, make her ill, so ensuring that premies get good milk helps not just the infant but his or her immediate family to feel that the best possible care is being taken of the little one.
Some mothers who lose their own babies go on producing milk by breast pump and donating it to others as part of the process of coming to terms with their grief, so the provision of courier services may be helping parents who have lost a baby just as much as parents who are struggling with the complex and demanding medical routines of a neo-natal unit.
This opportunity to volunteer requires a car or, more often, a motorcycle, a full clean licence, a good knowledge of your local area and the willingness to get up and go at any hour of the day or night. Training and support and special clothing, and packaging for the medical supplies, are provided by several charities to do this work.
Support Group Volunteering
Over 80,000 babies are born too soon, too small or ill in the UK every year. Local family support groups help parents cope with the stress of having a baby in a neo-natal unit or recently returned home from one. They also support parents who have lost a premature baby and they work with wider family such as other children and grandparents who often struggle to cope with their feelings and don't know how to act for the best around a premature baby.
This opportunity requires you to pass a Criminal Records Bureau check, to be or have been a parent (not necessarily of a premature baby) and to be willing to work with your local community. Training and support are provided by several charities to do this work.
Premature Baby Cuddle Scheme
Studies showing the benefits of human physical contact on newborn babies has prompted some neo natal units to recruit volunteer "baby cuddlers". While parents are generally around to provide this vital 'service' - there are times when some respite is needed. Occasionally too, a parent will be unable to cuddle a newborn because they are unwell themselves, this is where volunteer cuddlers come in. Their role is simply to hold an unhappy baby, providing a human touch and perhaps singing or talking gently to reassure them.
Where Can I Find a Cuddle Programme?
We don't have a list of cuddle programmes in the UK, so please contact your nearest premature baby unit, or NHS trust to find out more.
You might also like...
I would like to become a volunteer of cuddling premature babies.I have got a DBS. What should I do next?
Sylvie
- 9-May-19 @ 9:33 AM
I would like to become a volunteer cuddling babies or children. I have got a DBS. How can I do it
Silvie
- 9-May-19 @ 9:32 AM
Hi I would love to volunteer cuddling babies, Can you please advise what I do next. Thank you Cherie ??
I would love to volunteer cuddling babies, I have a 15 month old son so I understand how much love and affection they need. I live in North Wales.
Naomi
- 28-Apr-19 @ 11:17 PM
I would love to do this !! It is beautiful and caring . I'm a 16 year old and I am from Luton . Please get in touch !!!!
Sadia
- 27-Apr-19 @ 11:34 PM
I would love to volunteer to do this please may I have details
Mita
- 13-Apr-19 @ 11:04 PM
A nana 62 who has plenty of cuddling experience and a car with full clean licence. Would love to volunteer with the very young or very old.. Has a grown up child and grand children.. Experience of loosing a child and an ectopic pregnancy.. Played a supporting role to my family and others. As am ex chef love cooking.. and finished career in the NHS. Would love to give back.
Chrisi
- 9-Apr-19 @ 9:43 PM
I wouldlove to volenteer for the baby cuddle program i live near abergavenny monmouthshire plz get in touch if thair is a available volenteerspace I am free most days of the week thank you
Gach
- 9-Apr-19 @ 9:27 PM
I would love to work as a baby cuddled, in fact it would be my dream job! I live near Colchester, working in pastoral care with teenagers, and have been told my greatest asset is my patience. I have two grown up sons, adore them now but so adored them as babies :) I would love to offer some cuddle time to some beautiful babies.
I am currently a mother of premature twins I no how much love these baby's need I would love to help and cuddle baby's needed I would love to do this at the Womens hospital where my boys where born and looked after
Mel
- 27-Mar-19 @ 5:36 PM
I would love to cuddle babies 1 day a week. I live in Wales Brecon Powys.Could you please sign post me to the nearest training please?
Juls
- 26-Mar-19 @ 7:25 PM
I would love to help With cuddling a baby I sing a lot so this would really help me and the baby take our minds of things. I have 3 days of a week and would be willing to give up time to help in anyway possible.
Vicki
- 26-Mar-19 @ 1:11 PM
I would love to volunteer as a baby cuddled in the cornwall area. Couldn't think of anything better in all honesty
Me
- 23-Mar-19 @ 11:09 PM
I would love to volunteer as a driver and a babies cuddler I have have a lot of experience with premature babies as my last two children where premature I would love to help
Katie kadriu
- 9-Mar-19 @ 9:42 PM
I am 29, I live in south London and I adore babies, they are angels. I would love to volunteer some of my free time to cuddle babies and premature babies. I am very good with babies as I helped raise my nephews.
Kamara
- 24-Feb-19 @ 9:44 PM
Hi. I'd be happy to courier breast milk. I have a car and still enjoy driving. I'm not a good sleeper so happy to volunteer at unsociable hours. Having had 4 sons and now got 10 Grandchildren I'm still very involved in caring for children and even volunteering as a cuddler would be lovely. More info and if it's needed in my area would be appreciated.
Jan
- 20-Feb-19 @ 1:08 PM
I used to cuddle my three grandsons when they were babies they are now grown up and I miss their cuddles. I would love to help parents who need a break and cuddle their babies. I am an elderly lady of 74 who lives in Bury, Lancashire, are there any hospitals near me who need this kind of help.
I would love to volunteer for babu cuddling I am 60years old and have been lucky to have had a lot of experience with babies and would love to do this .
This would be a dream job for me! I am 26 and have two young children of my own, both who have had numerous trips and sleep overs at hospitals over their lives. I am currently studying a SWAP Access to Nursing course which I will complete in June, then moving forward on to an HNC care and administrative practice course. My goal in the long run is to become a midwife. I would love to offer my services acouple of times a week to cuddle and care for some beautiful babies. I live in Glasgow, UK
Lauren
- 4-Feb-19 @ 10:27 PM
I have worked full time since leaving school and will shortly leave work. I would love to volunteer as a baby cuddler if needed in my area. I can do Southampton,Salisbury, Winchester, Lymingtonor surrounding areas. Please email me if there is something I could help with and I will email my full details/phone number. Thank you
Tanya
- 3-Feb-19 @ 5:54 PM
I think it's terribly disrespectful and discriminatory to have an exclusion criteria of needing to be or have children to be able to support families. How cruel to people who can't have children like myself. I have many children related qualifications and skills, it should be on merit not ability to conceive. I'm very disappointed and shocked.
Alice Hortop
- 1-Feb-19 @ 1:22 PM
I would like to volunteer as a baby cuddler for premature babies. I myself had a 28 weeks premature baby stayed in the neonatal unit for 8 months and he lost his battle. Since had 2 boys all well. I live in Leicester. 07913805510
Mina
- 1-Feb-19 @ 11:15 AM
I would like to volunteer as a baby cuddler for premature babies. I myself had a 28 weeks premature baby stayed in the neonatal unit for 8 months and he lost his battle. Since had 2 boys all well. I live in Leicester.
None
- 1-Feb-19 @ 11:12 AM
Mum and Teacher, working with SEN children in High School. Have some spare time to share my kindness , caring and trustworthy with little Angels.
Sylvie
- 1-Feb-19 @ 10:06 AM
I remember the week that my eldest was born. He was born with a deflective left ventricle that was caused by a heart attack of attacked by a massive blood clot inside his little heart when he was only in the fourth month of his pregnancy. Doctor's told us that he might not survive his birth...he stayed in the ICU for over a week. Nearing his second birthday, he was told he would soon die before his second birthday. He grew into an amazingly good looking charm man who made a room bright. He became your best friend after a few hours of meeting his girlfriend and he had their first true kiss after their first ten-hour shift working together. He died after a routine operation to insert an internal defibrillator from an blood clot. I received an unsigned text from a nurse who had him as her patient for two days. She became a friend of his. SHe cried all night when he died five days later. I want to care and protect those tiny vulnerable babies who were also given a very dimmed prognosis. I would never tell a parent their baby won't make it. My baby died 17th on Oct he was 24 years old. .
Bonnie
- 30-Jan-19 @ 9:13 PM
Hello , I live in Worcester , UK . I am 34 I worked as a nanny for almost 5 years . It was the best and most rewarding 'job' to me . I switched back to hospitality industry job and I am successful in the field but I would like to help these babies as I always been so good to them . Kata
katttus
- 27-Jan-19 @ 2:02 PM
I am 60, have worked most of my life. Would now like to do something with meaning and being able to work on a voluntary basis with either premature babies or babies who have been subjected to drug abuse.I hope that I could be concidered for this type of role.
Hilary
- 25-Jan-19 @ 9:10 PM
Hi I would like to apply for a baby cuddling position in the Birminghamand Sandwell area I can do day time work. Look forward to hearing from you.
Pat
- 22-Jan-19 @ 6:57 PM
I live in South Wales near Swansea. I am a mother to two children under 10, and if possible, I'd love to offer my services as a baby cuddler. My daughter was in a special care until for few days after she was born, and this service would have kept my mind at ease had it been available then.
Kyliehart
- 21-Jan-19 @ 3:23 PM
I would like tovolunteer in Glasgow for your Baby cuddle unitI am 68yrs old I'm retiredand have plenty of time on my hands because a cuddle can make a mountain of difference to a wee sick Baby.And to me
Nell
- 12-Jan-19 @ 9:57 AM