Volunteering to Help Premature Babies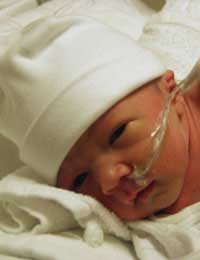 The life of a premature baby is fragile and stressed, and the family of such a baby are likely to also be extremely stressed and anxious. Physically, mentally and emotionally, the tiny babies and those who love them need all the help they can get. Fortunately there are a whole host of ways that you can volunteer to help.
Craft Volunteering
A large number of UK charities and organisations offer the opportunity to sew, knit or crochet clothing and other items needed to care for premie babies. Items needed range from premature clothes and blankets through to tiny burial outfits to give those little ones who don't survive a suitable and loving garment in which to be seen for the last time by their grieving relatives.
The items are made for the charity and then collected to be laundered so that they are free of all infection and irritation before being taken to special care baby units.
This opportunity requires you to have the necessary craft skills, to be able to work to a pattern and to either take your items to a depot or post them to an agreed address for onward transmission.
Courier Volunteering
Several motorcycle groups and charities have volunteer roles, transporting urgently needed donor breast milk, and blood, to neonatal units where the milk is given to premature babies to boost their immune systems and the blood provides transfusions for mothers who have complications resulting from their labour.
In rural areas in particular, the regular provision of donated breast milk can make a huge difference to a baby's survival by reducing the risk of infection. It gives the tiny babies optimum nutrition as well as reducing their vulnerability to infections and viruses. A mother who isn't producing milk may be very stressed about her baby's health and that can, in turn, make her ill, so ensuring that premies get good milk helps not just the infant but his or her immediate family to feel that the best possible care is being taken of the little one.
Some mothers who lose their own babies go on producing milk by breast pump and donating it to others as part of the process of coming to terms with their grief, so the provision of courier services may be helping parents who have lost a baby just as much as parents who are struggling with the complex and demanding medical routines of a neo-natal unit.
This opportunity to volunteer requires a car or, more often, a motorcycle, a full clean licence, a good knowledge of your local area and the willingness to get up and go at any hour of the day or night. Training and support and special clothing, and packaging for the medical supplies, are provided by several charities to do this work.
Support Group Volunteering
Over 80,000 babies are born too soon, too small or ill in the UK every year. Local family support groups help parents cope with the stress of having a baby in a neo-natal unit or recently returned home from one. They also support parents who have lost a premature baby and they work with wider family such as other children and grandparents who often struggle to cope with their feelings and don't know how to act for the best around a premature baby.
This opportunity requires you to pass a Criminal Records Bureau check, to be or have been a parent (not necessarily of a premature baby) and to be willing to work with your local community. Training and support are provided by several charities to do this work.
Premature Baby Cuddle Scheme
Studies showing the benefits of human physical contact on newborn babies has prompted some neo natal units to recruit volunteer "baby cuddlers". While parents are generally around to provide this vital 'service' - there are times when some respite is needed. Occasionally too, a parent will be unable to cuddle a newborn because they are unwell themselves, this is where volunteer cuddlers come in. Their role is simply to hold an unhappy baby, providing a human touch and perhaps singing or talking gently to reassure them.
Where Can I Find a Cuddle Programme?
We don't have a list of cuddle programmes in the UK, so please contact your nearest premature baby unit, or NHS trust to find out more.
VOLUNTARY WORKER IS FOR SALE:
This website is for sale [more info].
You might also like...
I've recently taken voluntary redundancy from British Airways and I have lots of free time. I have always wished to help out with caring for little babies in hospital. Many years ago, I helped to feed, cuddle (where appropriate)and help care for little ones who's parents couldn't be there all the time. I'm 63 years old but still got plenty of energy. And as I don't need to work for money, I'd love to give my time to helping others.
Bernie
- 4-Jun-21 @ 6:05 PM
Hello I am a Mother of 4 and live in Oxfordshire .I would love to help with babies .Please let me know how and where. Thanks Helena
Heli
- 16-May-21 @ 8:37 AM
I would love to help with baby cuddling for premature babies
I am a well-being champion and a holistic therapist.I also offer other modalities in self-healing technique, meditation with practical techniques to balance emotions and transform physical pain. I sing songs that promote healing, relaxations and balance *Soul Song is the song of one's soul. It carries our soul frequency and vibration, which has the power to nourish and bless ourselves and others. Love Peace and Harmony is a Divine Soul Song. It carries Divine frequency and vibration. Singing Soul Song is a powerful way to deliver soul love, light, forgiveness and compassion to oneself and others. I have a close relationships with babies and children and adults of all ages.I would like to extend my services to support as necessary.baby cuddler, therapies for relaxation and self healing techniques I use Tao Healing practices and services into their repertoire to help the clients tobecome healthier and happier. I have volunteered with charities offering support, I am a
Meena
- 17-Feb-21 @ 12:13 PM
I live in Derby and I am 58 years old. I have two grand children that lives in Belgium and loads of babies in our extended family all over the world, which I so wish I could hold and cuddle and love. I was reading about these little ones that need help and cuddles. If there is anyway I can get involved please can you send me some info
Willie's
- 8-Feb-21 @ 1:08 PM
Iam a 42 years old woman with two grownup boy, my forest son getting married in summer and my younger one will go to uni in September, I would love to know where about in hull isbaby cuddle program
Mar mar
- 19-Jan-21 @ 12:40 AM
I'm a mum of 4. My youngest starts school in September 2021 and I will have some free time. I would love to volunteer to be a baby cuddle in the Leicestershire/Nottinghamshire area but I have no idea where to start. Can anyone point me in the right direction?
Rachel
- 12-Jan-21 @ 5:24 PM
I am 36 and a father of 4 wonderful children 1 of whom requires 24hr care from myself and my wife. I have spent long periods of time in ICU, PICU and also standard wards, always seeing babies whom have no active parent by their sides to give them the time, affection and cuddles they so desperately need. I adore babies and can always be found at a wedding or family event cuddling a baby whilst the parents have some much needed fun. Since leaving work to be a full time carer I have felt without a personal purpose. I'm readily available 24hrs a day to give company and cuddles X
Jon
- 22-Dec-20 @ 12:15 PM
I would like to help and volunteer for baby cuddle scheme. I just love babies and I like helping.
AnnaE
- 21-Dec-20 @ 11:30 PM
I have a lot of love to give. I come from a large family of teachers and love children.
Lulu
- 21-Dec-20 @ 11:13 PM
I would love to be able to be a sunggle buddy for babies. I am a mum of 3 ages 13, 11 and 8 and i absolutely love babies. My youngest daughter spent her 1st week in the special baby unit at Princess Royal Hospital, Orpington and even though i was able to stay with my daughter most mums wasnt as lucky as me and i would like to give back by helping mums with their babies whilst they can not be with their baby. I live in Roehampton, South London SW15. If someone can get back to me regarding this, that would be great. Hope to hear from someone soon. Thank you.
Leanne C
- 13-Dec-20 @ 7:38 AM
I am a teacher and grew up around babies. I have a lot of experience with them. I love babies, they are so precious. My friends call me the 'baby whisperer' as I am able to calm babies and put them to sleep easily. I would love to give the love I have to help babies and families in need. Where can I volunteer to be a baby cuddle?
Maryann
- 12-Dec-20 @ 10:57 PM
Bom dia Sou técnica em enfermagem na maternidade onde moro, justamente em uma UTI neonatal, com prematuros e lactentes e amaria trabalhar como voluntária com esses pequenos.
Nina
- 4-Dec-20 @ 4:52 AM
Hi i am interested in becoming a snuggle buddy for babies i absolutely love babies and would lice to have another of my own i would be great full for more information as to how i can achieve this thanks Joanne
Jojo
- 24-Nov-20 @ 1:02 AM
I live in North Lincolnshire, I would live to help out by being a Baby Cuddler Volunteer. I have a grown up family of my own, have a medical background, and time on my hands. I'd love to give something back to help others.
Ronnie
- 23-Nov-20 @ 9:37 AM
Wiuld love to be a volenteer cuddle person.I also have loads of baby blankets hats bottees for prem babies.Was wondering if anyone knows if Simpson's Maternity hospital Edinburgh needs them Thanks Susan
Susan
- 17-Nov-20 @ 11:27 AM
I love babies and cant imagine anythingbetter then helping other by cuddling babies. I am available at any time of days or nights. Looking forward to hear back from you.
Milena
- 4-Nov-20 @ 9:04 PM
I'm going to retire soon and would love to work with babies. Im a very maternal person I waited 16 years for my beautiful daughter and understand the heartache of longing for a baby.
Mags
- 20-Oct-20 @ 4:59 PM
I would like to volunteer as baby cuddle scheme is there an application process to go through thanks.
Campus
- 6-Oct-20 @ 12:48 PM
Im thinking of retiring soon but absolutely love babies and would love to do some voluntary work near me I live in Bawtry near Doncaster. I've always been a very maternal person I have one daughter that I waited 16 years for so know the heartache that goes with waiting and longing for a baby. Would love to find out more if you can let me know please? Many thanks Maggie
Maggie
- 27-Sep-20 @ 9:42 PM
Hi, i am really interested in this ? Is this something that is available in uk? I am Peterborough based and have 3 girls from 21-12 and I would love to help if possible
Hayley
- 24-Sep-20 @ 8:37 PM
Hello, I have over 16 years childcare experience from working in a private nursery to working as a nanny. I also have my own daughter. I would very much like to volunteer to help with premature babies so any info you could give to me that be great. Thanks so much Mirika.
MiMi
- 10-Sep-20 @ 7:12 PM
I would love more information about this programme in London and Surrey. Many thanks
Sab
- 30-Aug-20 @ 7:46 PM
Hi, I live in Islington. I would like to cuddle babies at the hospitals near me or central London. Thank you
Dom
- 19-Aug-20 @ 10:22 PM
My babies were born at 27 weeks 4 months earlier in Guy's Hospital. They will be twenty this year. I would like to volunteer for any charity for premature babies.I would like to share my story to other young mothers.
Theresa
- 12-Jul-20 @ 1:41 PM
I have always loved babies, smaller the better to cuddle in my eyes. Being the family babysitter gave me a lot of cuddles to give. But also it's a chance to help the NHS staff and most importantly comfort that little human being who needs it most. Unfortunately biology is against me and my husband so haven't had the chance as of yet but I'm hoping our time will come. I would love nothing more than to be a comfort to them babies as they would be to me. If there are any opportunities I'd be most grateful. I live inBirmingham and work full time but would be happy to assist week nights and weekends.
JoJo
- 8-Jul-20 @ 7:47 PM
I am very interested in finding more information about baby cuddling scheme. I have experienced having a baby in neo natal and know how important it is for them to have human contact. I shall look forward to hear from you.
Ria
- 23-Jun-20 @ 10:37 PM
Hello I'm a mother of 4 grown up children, I would love to find out more about volunteering opportunities within the neonatal and cuddling babies scheme. If there are any hospitals in the Cornwall area then please contact me. I would love to help.
Beanie
- 12-Jun-20 @ 4:17 PM
I would like to volunteer to the Premature Baby Cuddle Scheme. Can I please get some more information.Many thanks.
Carvandi
- 24-May-20 @ 1:55 PM
Hi I would love to be able to offer my time to help in anyway I could for the premature baby units in Leicestershire.Thethought of offering time and love and emotionalsupport to staff and parents would be a pleasure. I'm a mother of three grown adults now and also grandmother which is a joy !i have experienced heartache and baby loss myself,so I fully understand the need for support .
Sally
- 22-May-20 @ 9:01 PM