Volunteering to Help Premature Babies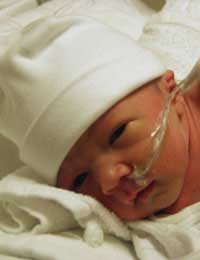 The life of a premature baby is fragile and stressed, and the family of such a baby are likely to also be extremely stressed and anxious. Physically, mentally and emotionally, the tiny babies and those who love them need all the help they can get. Fortunately there are a whole host of ways that you can volunteer to help.
Craft Volunteering
A large number of UK charities and organisations offer the opportunity to sew, knit or crochet clothing and other items needed to care for premie babies. Items needed range from premature clothes and blankets through to tiny burial outfits to give those little ones who don't survive a suitable and loving garment in which to be seen for the last time by their grieving relatives.
The items are made for the charity and then collected to be laundered so that they are free of all infection and irritation before being taken to special care baby units.
This opportunity requires you to have the necessary craft skills, to be able to work to a pattern and to either take your items to a depot or post them to an agreed address for onward transmission.
Courier Volunteering
Several motorcycle groups and charities have volunteer roles, transporting urgently needed donor breast milk, and blood, to neonatal units where the milk is given to premature babies to boost their immune systems and the blood provides transfusions for mothers who have complications resulting from their labour.
In rural areas in particular, the regular provision of donated breast milk can make a huge difference to a baby's survival by reducing the risk of infection. It gives the tiny babies optimum nutrition as well as reducing their vulnerability to infections and viruses. A mother who isn't producing milk may be very stressed about her baby's health and that can, in turn, make her ill, so ensuring that premies get good milk helps not just the infant but his or her immediate family to feel that the best possible care is being taken of the little one.
Some mothers who lose their own babies go on producing milk by breast pump and donating it to others as part of the process of coming to terms with their grief, so the provision of courier services may be helping parents who have lost a baby just as much as parents who are struggling with the complex and demanding medical routines of a neo-natal unit.
This opportunity to volunteer requires a car or, more often, a motorcycle, a full clean licence, a good knowledge of your local area and the willingness to get up and go at any hour of the day or night. Training and support and special clothing, and packaging for the medical supplies, are provided by several charities to do this work.
Support Group Volunteering
Over 80,000 babies are born too soon, too small or ill in the UK every year. Local family support groups help parents cope with the stress of having a baby in a neo-natal unit or recently returned home from one. They also support parents who have lost a premature baby and they work with wider family such as other children and grandparents who often struggle to cope with their feelings and don't know how to act for the best around a premature baby.
This opportunity requires you to pass a Criminal Records Bureau check, to be or have been a parent (not necessarily of a premature baby) and to be willing to work with your local community. Training and support are provided by several charities to do this work.
Premature Baby Cuddle Scheme
Studies showing the benefits of human physical contact on newborn babies has prompted some neo natal units to recruit volunteer "baby cuddlers". While parents are generally around to provide this vital 'service' - there are times when some respite is needed. Occasionally too, a parent will be unable to cuddle a newborn because they are unwell themselves, this is where volunteer cuddlers come in. Their role is simply to hold an unhappy baby, providing a human touch and perhaps singing or talking gently to reassure them.
Where Can I Find a Cuddle Programme?
We don't have a list of cuddle programmes in the UK, so please contact your nearest premature baby unit, or NHS trust to find out more.
You might also like...
Hi, I'm a mum of a four year old boy. I would love to be part of the program.
Cris
- 13-Oct-19 @ 3:47 PM
I'm a Mum of two grown up boys and I would like to do something worthwhile with my spare time at weekends. Please can you send me some info on baby cuddling?
Angie
- 12-Oct-19 @ 3:50 PM
I am a 73 year old mother of two and grandmother of five - in good health and with experience working at my local maternity hospital in the 1980's. My time is completely my own and I'd love to help
Hi, I am a mom of 2 boys, I would love to cuddle baby who needs help. I am happy to help at weekends or during evenings.
Lilou
- 8-Oct-19 @ 5:52 AM
Hi I'm 31 years old, have two children and have worked in primary schools for over 10 years. I am really interested in the baby cuddle scheme and if possible volunteer for it as well. If you could send me any information on how to take this further I would really appreciate it. Thank you.
Hasna
- 6-Oct-19 @ 3:59 PM
Hi, I would be interested in being a baby cuddler. My 9 year old was premature so I completely understand. I work with children in a school so have DBS. I live in Stockton but happy to go anywhere in the Teesside / Darlington area. Thank you!
Kellyr15
- 6-Oct-19 @ 8:43 AM
I am 41 years old mum of two boys.,21 and 9 year old. I would love to help and be a baby cuddle volunteer.I'mDBS checked as I'm working with the children at schools. Please contact me:)) Kasia
Kasia
- 1-Oct-19 @ 6:54 PM
I'm 41 years old mum of two boys 21 and 9 year old. I would love to help and be a baby cuddle volunteer. I'm a teacher and I'm working with the children I'm Dbs checked. I live in London. Please contact me:)
Kasia
- 1-Oct-19 @ 6:50 PM
I would love to cuddle babies who need me to. I'm based on London and I work Mon to Fri. I can be flexible with my time to allow for consistent availability from my end. Please share some more information on how I can best be more involved to become a baby cuddler. Many thanks.
Ameerah
- 28-Sep-19 @ 9:50 PM
Hi I have a little boy who was. 9 weeks prem. How do I go about applying for the support volunteer
Jade
- 26-Sep-19 @ 10:50 PM
I would love to volunteer to cuddle babieshow do I go about applying. Thank you
Claire
- 20-Sep-19 @ 9:14 AM
Hi I am a mom of three children between 4 and 10 months and I would LOVE to be a baby cuddler please send me some informations Thank you !
Leap26
- 18-Sep-19 @ 9:21 PM
Hi I'm interested in been a baby cuddling I'm from Middlesbrough & I'd love to help out.
Sue
- 15-Sep-19 @ 12:51 AM
Would love to help cuddle and play with babies and young children.I have had 3 children one of which has learning disabilities and autism that are all grown up. I have a 3 year old grandson which I look after regularly. I am looking to give up work as I will be better of not doing paid employment and I feel doing this would be more life giving than working in a shop for minimum wage.
Hey, I'm really interested in the baby cuddling scheme. I am a Senior career at a nursing home and have been there 3 years. I would love to be involved and help some of these families as much as i can. Please send me as much information as you can if possible
Mixie
- 8-Sep-19 @ 7:31 AM
I live in Bristol and work at a school two days a week so have already be checked would love to became a baby cuddlier
Tracy
- 4-Sep-19 @ 11:28 PM
I would love to volunteer for the cuddleing baby schemeI am DRB checked and have work within hospitals as a volunteer in the past I am happy to give my mobile number and would happily work any days evenings or nights I live in Cheshire CH2 postcode area I have my own car and can travel if needed Please consider me for this. I have 3 grown children of 34, 33, and 28 my youngest has autism and a pacemaker Thank you for the opportunity to volunteer. I love babies and have no grandchildren so I have a lot of love to give Many thanks Mary
Bing
- 2-Sep-19 @ 9:10 PM
I would like to cuddle babies who need me, and to keep them warm and alive. I would be available any time of the day or night.
Jean
- 29-Aug-19 @ 11:01 PM
I would like to participate in the craft volunteering. I can produce hats for newborns, preemies or cancer patients. Unfortunately I don't have the yarn, but have the crochet skills.
Im a mother of 1 and I'm interested in volunteering for a baby cuddler and help as much as I can for this cute babies. I live in East Tilbury.
Vee
- 13-Aug-19 @ 6:24 PM
Hi I live within East Lothian/ Edinburgh and am looking into cuddle buddy for newborn babies if anyone knows someone who's needing help or hospitals that I can help out would you please let me know thanks
June
- 8-Aug-19 @ 4:03 PM
I live in Windsor and I am interested in volunteering as a baby cuddled in Berkshire area. Can you please advise how does this works?
n/a
- 5-Aug-19 @ 11:25 AM
I'm a mother of 7 and would love to help out
Shell
- 19-Jul-19 @ 9:46 PM
Hi, would love to volunteer as a baby cuddler. I'm a mum of 2 (4 & 2years old).
Bella
- 16-Jul-19 @ 1:33 PM
Please could I be sent some information on how to volunteer to become a baby cuddler.
Laura
- 13-Jul-19 @ 7:24 PM
Hi can you send me some information on how to sign up for the cuddle baby scheme I live close by to 2 hospitals in Teesside thankyou
Sarah
- 11-Jul-19 @ 11:31 AM
I am living in Darlington.I am retired and I am interestedto volunteerto help with babies. Are there volunteeropportunitiesin my area?
Bille
- 8-Jul-19 @ 9:06 PM
I have been studying 5 years now I have gained my access to nursing a foundation in mental health and just passed my health and social science. I do not have the confidence to go for jobs yet because of mydyslexia. But would love to volunteer to be a baby Cuddler.
Michelle
- 7-Jul-19 @ 8:08 PM
I'd love to volunteer. I currently help bereaved families with the loss of stillborns providing gowns, handprint kits and bonding items etc. Willing to travel wherever if it helps any poorly little babas and families ??
Jess
- 26-Jun-19 @ 2:13 PM
I am a mother of 2 and grandmother of 3. I amrecently retired and would love to get involved in this wonderful cause
pauline
- 23-Jun-19 @ 1:00 PM