Volunteering to Help Premature Babies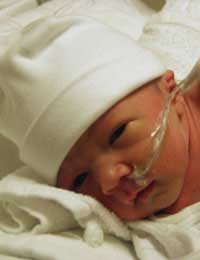 The life of a premature baby is fragile and stressed, and the family of such a baby are likely to also be extremely stressed and anxious. Physically, mentally and emotionally, the tiny babies and those who love them need all the help they can get. Fortunately there are a whole host of ways that you can volunteer to help.
Craft Volunteering
A large number of UK charities and organisations offer the opportunity to sew, knit or crochet clothing and other items needed to care for premie babies. Items needed range from premature clothes and blankets through to tiny burial outfits to give those little ones who don't survive a suitable and loving garment in which to be seen for the last time by their grieving relatives.
The items are made for the charity and then collected to be laundered so that they are free of all infection and irritation before being taken to special care baby units.
This opportunity requires you to have the necessary craft skills, to be able to work to a pattern and to either take your items to a depot or post them to an agreed address for onward transmission.
Courier Volunteering
Several motorcycle groups and charities have volunteer roles, transporting urgently needed donor breast milk, and blood, to neonatal units where the milk is given to premature babies to boost their immune systems and the blood provides transfusions for mothers who have complications resulting from their labour.
In rural areas in particular, the regular provision of donated breast milk can make a huge difference to a baby's survival by reducing the risk of infection. It gives the tiny babies optimum nutrition as well as reducing their vulnerability to infections and viruses. A mother who isn't producing milk may be very stressed about her baby's health and that can, in turn, make her ill, so ensuring that premies get good milk helps not just the infant but his or her immediate family to feel that the best possible care is being taken of the little one.
Some mothers who lose their own babies go on producing milk by breast pump and donating it to others as part of the process of coming to terms with their grief, so the provision of courier services may be helping parents who have lost a baby just as much as parents who are struggling with the complex and demanding medical routines of a neo-natal unit.
This opportunity to volunteer requires a car or, more often, a motorcycle, a full clean licence, a good knowledge of your local area and the willingness to get up and go at any hour of the day or night. Training and support and special clothing, and packaging for the medical supplies, are provided by several charities to do this work.
Support Group Volunteering
Over 80,000 babies are born too soon, too small or ill in the UK every year. Local family support groups help parents cope with the stress of having a baby in a neo-natal unit or recently returned home from one. They also support parents who have lost a premature baby and they work with wider family such as other children and grandparents who often struggle to cope with their feelings and don't know how to act for the best around a premature baby.
This opportunity requires you to pass a Criminal Records Bureau check, to be or have been a parent (not necessarily of a premature baby) and to be willing to work with your local community. Training and support are provided by several charities to do this work.
Premature Baby Cuddle Scheme
Studies showing the benefits of human physical contact on newborn babies has prompted some neo natal units to recruit volunteer "baby cuddlers". While parents are generally around to provide this vital 'service' - there are times when some respite is needed. Occasionally too, a parent will be unable to cuddle a newborn because they are unwell themselves, this is where volunteer cuddlers come in. Their role is simply to hold an unhappy baby, providing a human touch and perhaps singing or talking gently to reassure them.
Where Can I Find a Cuddle Programme?
We don't have a list of cuddle programmes in the UK, so please contact your nearest premature baby unit, or NHS trust to find out more.
You might also like...
I've had 4 kids they're all growing up far too fast. My 2 boys have asd I have a keen interest in helping others with asd. I love babies and I have been through withdrawal myself from prescribed medication so I'd love to help any babies going through this.
Jenn
- 25-Jan-20 @ 4:12 PM
Hi ya I'm a 33 year old mother of three, for the last three years I have been a single mother on my own with my two youngests are now 3 and 4 at nursery I want to find volentary work just help to give a little ?? I'm available Tuesdays and Wednesdays while my children are at nursery, if you need a hand with a bubba.
Donna
- 18-Jan-20 @ 12:49 PM
I am mum of two children, I have 48 yeard old, and I wantone more baby, I love childrens, my son have 12 yeard, my daughter 20,next month she complete 21. I look fot a job, and I love work with childrens, I can spend my time, to give help support for a cuddle baby's.
Miss star
- 15-Jan-20 @ 10:33 PM
I would love to volunteer as a baby cuddler. I have weekends and evenings free if you have any need for me. I live in Co. Durham and am happy to travel to Sunderland, Durham and Middlesbrough. Please contact me if you have any availability.
MrsY
- 13-Jan-20 @ 5:43 AM
I am a mother of three grown children and 5 grandchildren.I would love to volunteer as a baby cuddler.I have weekends and evenings free to share lots of cuddles.I live central to Sunderland, Durham and Middlesbrough.Please contact me.
Alisha
- 12-Jan-20 @ 2:46 PM
I Love babies and now thatall 5 of mine are grown up I miss the beauty of holding precious little newborns. I would love to volunteeron a premature unit or any type of baby ward as a baby cuddler In the Manchester region and give back for the joy I experienced cuddling my own.
Luma
- 10-Jan-20 @ 9:30 PM
I am 37 years old and mother of 3 children 8, 6 and 4 years old living in Aylesbury, Bucks . My youngest started school in September.I would love to be a baby cuddler as l now have time on my hands for a few hours 3 days a week.I have an NVQ level 3 in childcare.
JL1982
- 9-Jan-20 @ 5:05 PM
I am a 60-year-old mother of three who are all leading busy happy lives. I feel I still have lots of cuddles left in me to give. I am a social worker by trade but due to ill health I can no longer work full time. I would love to become a baby cuddler.
Ems
- 27-Dec-19 @ 3:09 PM
I am 62 and have worked for 43 in varying healthcare settings. I would love to use my time to help premature babies
S15kdd
- 22-Dec-19 @ 11:45 AM
I'm a mum of 3 who are growing up , I would love to be a baby cuddled in some of my free time!
Cinderellav
- 7-Dec-19 @ 12:08 PM
Who do I contact to be a baby cuddlerin Glasgow or surrounding areas
I am a mother of 2 boys, 19 and 13, although I dont want more children I love to help out others who need support, cuddling a baby would help me with my fybromyalgia as well as helping the baby, everyone loves baby cuddles, I currently work looking after our older generation and love a hug from them, why not try this to help more people out ????
Missincredible
- 2-Dec-19 @ 8:33 AM
I would love the opportunity to use my free time to help a premature baby care unit in my area. As a mother of 3 daughters and a grandma to 2 granddaughters I'm very well experienced in hugs. What a perfect opportunity this would be for any maternal lady wanting to give extra hugs to newborn babies to give their mummies a little time out. Really hope I'm considered for this amazing experience.
Deb
- 26-Nov-19 @ 10:38 PM
Hi I'm a 54 year old mother of 4 grown men and 5 grandchildren and one adopted grandson. I have lost my husband last year and I feel the time I have free I would love to give baby cuddles. Birmingham
Di
- 22-Nov-19 @ 10:29 AM
Does anyone know how I can volunteer to work with babies.
Reeny
- 17-Nov-19 @ 7:24 PM
Hello, I'm a Cuban American, from Miami, married to an English man and I live in London. A few weeks ago I left my big corporate job to take some time off. Although I don't have any children of my own, I have two step boys and amazing nieces and nephews who I always looked after.I would love to volunteer for the cuddle program. I have flexible time and much love to give.
Esther
- 2-Nov-19 @ 5:27 PM
I am 47 year old professional woman who would love to support cuddle programme and families in time of need. Willing to give support over weekends or weekday evenings. I live in Dalkeith Just outside of Edinburgh. Would be happy to offer my time to support others
Fiona
- 1-Nov-19 @ 12:03 AM
Hi.I am an adoptive mum whose son is now 18 years old.He was born addicted to heroin and was in the special baby unit for the first 6 weeks of his life, so I am completely understanding of the need for baby cuddlers and would love to be a volunteer. I live in Kent ??
Tracy
- 29-Oct-19 @ 3:47 PM
Hi i am mummy to twin boys who spent time in neonatal when born prem 4 years ago. I really would love to volunteer for this amazing charity to cuddle babies in need for whatever reason x
Twinnie
- 28-Oct-19 @ 7:15 PM
Hi I'm a mum of three 24,21,17 and would love to cuddle babies in my spare time . I have been a registered childminder for 12 years and also have a background in complementary therapies . Please could you send me information for my area , Kirklees West Yorkshire thank you
Shev
- 24-Oct-19 @ 5:44 PM
Hi ,I'm a mother of 3 grown women,2 grandbabies an 3 dogs,I have spare time to help.x.
Angie
- 23-Oct-19 @ 8:29 PM
Hi there, I'm a mum of 3 boys who would love to cuddle babies that are in need of some TLC. Would love to hear from someone.
BettyBoop
- 23-Oct-19 @ 5:09 PM
Hi, I'm a mum of 2 children & would love to help with the baby cuddle scheme. Please could you let me know some more information. Many thanks
Cas
- 22-Oct-19 @ 8:55 PM
I'm a 61 yr old mum of 3 boys ( well, men now) Grandmother to a 7 yr old boy and 20 yr old granddaughter. I would love to be able to help care for and cuddle these tiny little babies as it's not always possible for parents to be present all the time. And nurses are so busy doing all they can with little or no breaks. I live in Langley Berks SL3
Bernie
- 22-Oct-19 @ 4:02 PM
I am 19 years old i have a child myself so i know what it is like to make a child feel loved and make sure they feel Safe and secure i am happy to help every weekend
Shaunie
- 20-Oct-19 @ 10:42 PM
Hi, I'm Jess! I'm currently studying Law at Manchester uni and i am looking to find exciting volunteering programmes to settle down into Manchester. I would love to be part of the Cuddle programme and help any baby that I can feel loved.
Jess
- 20-Oct-19 @ 1:05 AM
Hi I'm 19 years old and would love to apart of the cuddle care program. I can do every Friday and sundays. I'd love to help and care for these babies that may need my help/care. Im based in bangor. Please contact me, thanks :)
Kieran
- 19-Oct-19 @ 7:04 PM
Hi I'm a mum of 4 and would love to be part of the cuddle care for babies programme/course
Loz
- 18-Oct-19 @ 10:34 PM
Hi, I'm a mum of a four year old boy. I would love to be part of the program.
Cris
- 13-Oct-19 @ 3:47 PM
I'm a Mum of two grown up boys and I would like to do something worthwhile with my spare time at weekends. Please can you send me some info on baby cuddling?
Angie
- 12-Oct-19 @ 3:50 PM