Working With the Elderly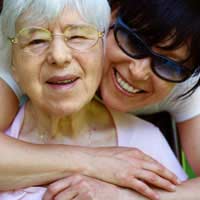 Dozens of charitable and voluntary organisations across the UK support elderly people in a wide variety of ways ranging from informal contact through to literally life-saving daily visits. The volunteers who work with the elderly are as varied as the roles available to them.
Visits And Activity Volunteering
Age can bring its own problems, including reduced mobility owing to ill health or frailty – this means that older people easily become isolated and trapped in their own homes, so volunteers visit them to ensure that they stay in touch with the rest of the community. Over time, previously home-bound elderly people may become able to make trips to clubs or events specially organised for older people, but at first it can simply be enough for them to receive a visit and some communication from the outside world. Volunteers going to somebody's home will need to pass DBS (formerly the CRB) checks and will probably be given training on how to manage 'outreach activities' – these can be as simple as playing draughts or helping clean out a cupboard through to helping an older person fill in forms or write letters.
It's important to remember that the elderly are vulnerable too and that it's vital to be sensitive to their feelings and fears.
Volunteering In A Residential Or Care Home
Many care facilities welcome visits from volunteers, especially to those residents who no longer have family members who visit them. This kind of volunteering is normally more structure than home visits, and may include working as a team that organises musical or art activities or performing such tasks as reading aloud, helping with hobbies or just walking around the garden with an older person who has balance or mobility issues.
Some volunteer groups encourage young people, children and even pet owners to visit residential homes so that the elderly inhabitants are given a chance to hold a rabbit or play with a dog, talk to children about their own childhood or work with teenagers to create local history resources. This kind of volunteering can be deeply rewarding but may also expose the volunteer to more troubling 'elder' behaviour that results from dementia, Alzheimer's disease or simply from having spent many years in an institution without visitors. This may mean that volunteers hear tales of depression and loneliness and most organisations that provide volunteers in such circumstances ensure they have a debriefing system to give their volunteers a chance to unburden themselves emotionally on a regular basis.
Memory Volunteers
A very specialised form of volunteering is the memory volunteer who sits with an older person and encourages them to explore their past. This may involve taking notes of family history, looking at old photos or providing prompts such as old books and newspapers, or music, that may prompt recollections. Some older people may be unresponsive at the beginning of such activities and a volunteer has to overcome their own disappointment and continue to talk about 'the good old days' in the hope that something they say will trigger a response. Often this treatment is offered to senile patients who turn out to have excellent access to childhood memories despite being unable to remember much of their later lives. There is always training offered for this kind of volunteering and the charities that undertake it often have 'memory packs' based on each decade of the past, to help a volunteer instigate the retrieval of memories.
You might also like...
Hi I would love to volunteer by keeping the elderly company, I am very patient and passionate when it comes to lending a helping hand. I am free all my days and would appreciate the chance to rather help where I can. I have good communication skills.
Zelda
- 10-Aug-21 @ 4:15 AM
Kt32 - Your Question:
I would like to find some volunteer work for my daughter she will be 16 in April and would lI've to volunteer in an old peoples home. We live in North Watford and I'm not sure how to go about getting her into it.Please come back to me when you can.RegardsKatie
---
Our Response:
You could try contacting old people's homes directly (your local council will have a list of all those in the area). The Housing Care organisation also has a list of places in Watford to volunteer with the elderly
here
VoluntaryWorker
- 19-Feb-18 @ 3:07 PM
I would like to find some volunteer work for my daughter she will be 16 in April and would lI've to volunteer in an old peoples home. We live in North Watford and I'm not sure how to go about getting her into it. Please come back to me when you can. Regards Katie
Kt32
- 19-Feb-18 @ 9:47 AM
Hello I am trying to find a kind caring person who will help look after my nan over night. She is 88yrs old & a wonderful kind lady. She has carers who go 4-5tikes a day to give her medication & change her as she has a catheter. Me & my sibling take it in turns during the day to assist her. She stays in bed as her legs are too weak for her to walk. We need somebody to do the night shifts as it is getting too much for us now. Please let me know if you can help our situation. Thank you- Koo
Koo
- 19-Jul-17 @ 11:36 PM
Would like some more information please as very interested
Sarai
- 10-May-17 @ 5:11 PM
Hi my name is Laura garrett and I would love to volunteer. Too work with the elderly. As. Befriending. Them. I have very good communication. Skills.I am a very caring. Person and have all the time in the world. For elderly. People I love reading writing. Talking and I am very good at listening I love to play games
Iam a lovely woman that love to help and support people that is in need. I have NVQ 2certificate in social care and order certificate in care field. I will be grateful if I am giving this opportunity to help the elderly. Thanks
dupe
- 17-Sep-15 @ 1:45 PM
Hi om 21years old would love to volunteer with elderly people I dud 2weeks experience in a care home and really enjoyed it ill like to gain more experience thanks
Coco
- 12-Sep-15 @ 2:02 PM
Hi .I m a student in centraLondon from Sri Lanka who is 46 years old now.And i have worked as a volluntery private nurse and a care for a paralised lady for 2 years till she passed away .and then i have worked as a carer for her husband who was 94 year old and unfortunately he passed away two weeks before. I LOVE CARING FOR ADULTS AND I ENJOYED IT A LOT.IF I GET A VOLLUNTERY JOB IN A CARE HOME IM REALLY HAPPY TO DO IT.
sally
- 19-May-15 @ 11:37 PM
My ambition is to work with elderly people as i was a carer for my mum, and i enjoyed doing things for her and taking her out keeping her company and making sure she was well looked after i have the upmost respect for older people, but there are times when they feel all alone and no0one cares thats why i want to do this because they deserve all the attention i can offer and it is always great to hear about their childhood & and how they lived growing up i also passed my nvq level two so hopefuly i could get a job working with them.
Dave.F
- 8-May-15 @ 4:01 PM
I am currently working full-time and would love to do some voluntary work in the early evening or weekends. I love talking to the elderly in my work and would be interested in maybe hospital visits or home or care home visits. I don'thave masses of time but can be consistentin what I do.
sian
- 1-Feb-15 @ 12:42 PM
Hi. I am 36 years old. I am looking for a voluntary work in any elderly center/ apartment around Didsbury in Manchester. I will appreciate if someone can respond to my request. I am available in Mondays and Tuesdays every week. Thank you.
Reggie
- 10-Mar-14 @ 10:12 PM
I have always wanted to work with the elderly somehing i have always wanted to do. i have tryed have hard to get a job but been unlucky so far.if just given the chance i could make a huge differance to there lifes karen hall from gateshead x
kaz
- 27-Nov-12 @ 9:08 PM
I love working with the elderly, there is always alot to learn from them.
Archie
- 28-Sep-12 @ 1:49 PM
i love working with the elderly and caring for them and helping with there everyday life
nicole
- 22-Jul-12 @ 10:24 AM
i have just started working with the elderly, i was just wondering if anyone knows if it's right to leave a trainee with another worker to take care of 13 residents. i am currently on the dole and i'm working as a volunteer. as i have had no training or induction i feel very uncomfortable with handling the elderly as i am and have no confidence in the residential home. during my first week there i was observing 2 fully trained workers however i feel like they have just put me in the deep end with no training what so ever for my second week.
Ryrian
- 1-Jun-12 @ 3:49 PM
I have worked with elderly and young children at a church, playing piano and running groups.My mother is now needing care to take her out as her breathing is quite bad.My friend who is a barber cuts gents hair nicely and talks to people, making them feel good about themselves.Can recommend him.
aerobic
- 9-Feb-12 @ 4:38 PM
I have worked in the public sector for 23 years servicing young offenders. I would like to extend my services to the elderly. I have no previous experience as a volunteer, however, feel that I have alot to offer. I have found much satisfaction in the knowledge that I have helped someone.
Dukey
- 19-Oct-11 @ 8:29 PM
I have beenworking with young children and pushingtowards elderly will be so great in developing my career in working in communties.
Toxy
- 17-Oct-11 @ 11:22 AM
I really enjoy working with elderly people,promoting independence and protecting from abuse.
max
- 26-Sep-11 @ 10:05 PM
I like serving old people and am just interested.
zziwa
- 8-Jun-11 @ 11:44 AM
I love working with the elderly, it's very rewarding
deb
- 27-May-11 @ 11:34 AM
I love working with young children and want to push on to elderly I may only be 15 but I work like a adult.
David
- 29-Mar-11 @ 11:11 AM