I Found a New Career Through St John's Ambulance: A Case Study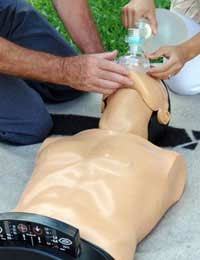 Not only is volunteering a great way of getting involved in your community, it can improve your career prospects too. Sasha Cunningham now works as a paramedic thanks to the experience she gained as a volunteer with St John's ambulance.
"I always wanted to be a doctor when I was at school but knew I would never get the grades. Instead I went into an office and then got married and had the twins." Once her daughters had started school Sasha found herself with more time and decided to volunteer as a First Aider. "One of my friends volunteered with St John's Ambulance and she invited me to come along as she thought I would love it. She was right."
Training as a First Aider
First of all Sasha trained as a First Aider working for her certificate through St John's. The certificate is open to anyone and teaches vital information on how to deal with life or death situations such as heart attacks and strokes. It also gives a grounding in how to deal with more everyday situations such as burns, scalds, abrasions and the need for bandages or cold compresses. "Although there was a lot to learn I loved it and found that I had an aptitude for it. The trainer said I was a natural to volunteer with St John's"
Volunteering at Local Events
Sasha volunteered with her local group and soon found herself attending local sporting events, performances and gigs. "I got to attend lots of interesting events and I met lots of interesting people." Due to her family commitments Sasha helped out at mainly daytime events, usually at the weekends when her husband was able to look after their daughters. "The main problems were cuts and grazes and also people passing out and fainting in stuffy theatres." Sasha found that a big part of her role was simply to offer a calm ear and reassurance. "People sometimes get a bit overwhelmed and emotional and they like to be able to pour it out to someone who will listen. That can often help every bit as much as the plaster that goes on their cut."
Looking for a Different Career
After volunteering for three years it was another volunteer who told Sasha that the local NHS was looking for new paramedics. "I was ready to return to work and the thought of going back to an office filled me with horror. Before St John's Ambulance I never dreamed I could have a career in a medical role but now I felt a bit of confidence and decided to apply." Sasha is convinced that her volunteering role and commitment to St John's Ambulance gave her the knowledge and experience to succeed at the interview. She was taken on to train as a paramedic at her local hospital.
"As a paramedic my colleagues and I are often the first medical point of contact for people with a whole range of conditions, often very serious. We turn up in the ambulance and have to assess the situation and often give essential emergency treatment. You need to stay calm, clear-headed and keep up to date with treatments." Sasha loves her new career and also continues to volunteer with St John's Ambulance, now as a First Aid trainer. "I never could have imagined where it would all lead when I first took my First Aid certificate. I would recommend anyone to do it; after all you could save a life."
You might also like...