I Work as a Mountain Rescue Volunteer: A Case Study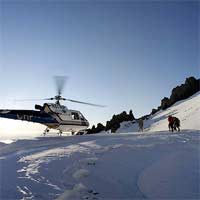 Every year dozens of grateful walkers and climbers benefit from the work of mountain rescue teams. The teams are made up of committed volunteers like Donny Leish. Donny is a PE teacher and self-confessed "fitness nut". He has been climbing hills since his father took him up his first one when he was just nine years old. Donny lives and teaches in Fort William, a thriving centre for hill walking and climbing in the shadow of Ben Nevis, the highest mountain in Britain.
"I've been in the mountain rescue for two years now and I am really glad that I volunteered. The team are a great bunch and all love the mountains." For practical and safety reasons all of the mountain rescue team need to be physically fit and Donny's team train together when they can. Donny sometimes devises routines for them to follow to get them in practice. "I was also told that I needed good eyesight when I joined, luckily I have twenty twenty vision. It is important that you are able to make the most of visibility when you are up on the hills."
All the Team Members are Keen Walkers
All of the team are keen walkers and they get out up into the hills together whenever they can. Familiarity with the hillside could make all the difference between success and failure of a rescue. "Some of the team have been going up these hills for thirty years and more. They know the way round like the back of their hand. I would certainly trust them with my life and I am always glad to get up in the hills with them as there is always something new to learn."
Some of the team prefer hill walking but Donny is amongst the team members who are committed mountain climbers. He has all the relevant equipment and welcomes the physical challenge that it poses. "It's all about calculated risk" he says "Nothing is 100% safe but you have to use your common sense and take all the necessary safety precautions. Problems start when people get cocky and try to cut corners."
Donny is on call 24/7 and luckily his school is sympathetic and has an agreement with Donny that within reason, he can attend a call-out even during school hours, especially if it is an emergency, which it usually is. In his two years of volunteering Donny has attended dozens of call outs.
Sometimes People are Unprepared for the Conditions
"Sometime it is just idiots who have set off unprepared and got themselves stranded as the weather conditions change. You wouldn't believe the people who set off in t-shirts and trainers with no warm clothing or proper footwear." Donny has also been involved in incidents involving people who have been injured in falls. "One man broke his leg and we managed to stretcher him back down the hill and to the ambulance which was waiting at the bottom." On a more serious occasion Donny helped rescue a man suffering from extreme hypothermia after being lost on a mountain for over 24 hours. "The rescue helicopter was mustered when we found him and he was airlifted to hospital. He was fine and recovered there." Stories like that emphasise the seriousness of Donny's role.
"Mountain rescue relies on volunteers. We get no government funding" Donny says. He is involved with many fundraising drives and there is a lot of goodwill towards the team from the local community. Donny also visits local schools and youth organisations giving talks on his role and the do's and don'ts of hill safety. "It's very rewarding, I'm glad I volunteered."
You might also like...