Helping Out on a Debt Helpline: A Case Study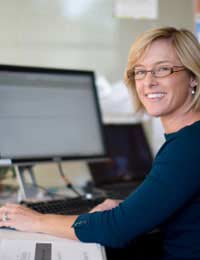 Catherine Reddy is only too aware of the effects of the global recession. Catherine volunteers for a debt helpline and receives dozens of calls a day from people who are suffering from the effects of the downturn. "It can be heartbreaking as some people's whole lives are in a mess. We are there to help them to sort the mess out."
Catherine is a payroll officer in a human resources firm. "I've always worked with figures and I was one of those weirdos who enjoyed maths at school" she laughs. She has been working in her job for over ten years and three years ago decided that she needed a new challenge. "I decided to look into volunteering. I got in contact with the local volunteer centre and was amazed by how many opportunities there were. When they heard about my background in payroll they suggested I consider becoming a debt adviser."
Qualities Needed for Working on the Helpline
"I went for an interview and was advised that I would need to be patient, tactful and respect confidentiality. I am used to all of those things in my normal working life and was accepted onto the training course." Catherine received extensive training in handling sensitive telephone calls and in the practicalities and legislation surrounding debt and financial insolvency in the UK.
"We encourage people to write everything down so that they can give us a clear picture of their situation." This includes debts such as credit card payments and money owed to financial institutions, mortgage or rent payments, monthly outgoings and any other financial responsibilities as well as earnings and any other money coming in.
Catherine will then systematically go through these amounts with a caller. Callers can remain anonymous if they wish but most are happy to give their name and personal details. "This means I can get back in touch, if need be to follow up on our conversation." They will look at ways of consolidating the debt and attempt to come up with an individual voluntary arrangement or debt management plan.
"Taking the decision to phone us is a big step forward as people often spend a long time in denial about their financial problems. It can be quite emotional for someone to admit that they have problems and often people are stressed and anxious about their problems." Catherine needs to be tactful and sensitive and always aims to offer encouragement and positive solutions even though there are no quick fixes.
It Can be a Relief to Find Someone to Talk to
"It can be such a relief for someone to finally talk about it and to realise that they can begin to tackle the problems." Catherine usually recommends that callers contact everyone they owe money to, explain the situation and ask to make reduced payments on a regular basis. "Most banks and other organisations will be happy to do this as it shows that the person is taking responsibility and they would rather receive some money regularly than none at all because the person can't pay."
If necessary Catherine can advise on bankruptcy and how to proceed and is also able to give benefits advice to ensure people are receiving all the support that they are entitled to. "It can be stressful sometimes, dealing with such difficult issues but it is also really satisfying helping people to sort out their lives."
You might also like...