Volunteering as an Animal Carer: A Case Study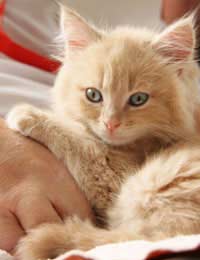 Cyndy Hopkins dotes on animals and they respond to her too, sensing that they are safe with her. Cyndy loves animals so much that she volunteers as a carer for other people's animals as well as looking after her own.
How I Got the Idea to Foster Pets
"I came across the idea when I had to go into hospital for a minor operation and needed someone to look after my cats." Cyndy found an organisation that provided a foster parent for animals whose owners were called away at short notice, because they had to go into hospital for example. "It was a godsend, I was so grateful as none of my friends or family were in a position to look after my four cats. This way they were all well looked after in a caring and hospitable home." Once she was back home and had recuperated Cyndy decided to investigate the possibility of becoming a 'foster mum' to other people's pets herself.
"I got in touch with them and expressed an interest in fostering". A representative from the organisation came out to chat to Cyndy about the role and its responsibilities and to inspect her home to see whether it was suitable. "I'm lucky, I have a big house with lots of space in my garden so there is plenty of room for animals to find a home with me."Cyndy was approved as a foster carer three years ago and has since taken in dozens of nervous animals.
Only Pet Care Option Available
By giving them a home Cyndy is ensuring that they are safe and well-looked after while their owner is in hospital. In some cases the only other option would be euthanasia so she is really offering a valuable service. "Each animal is unique, they all have their own personalities" Cyndy says "that is part of the joy of this work, I never know who will be coming to stay next or what they will be like, But it is always a pleasure." Cyndy's own cats are all sociable and have adjusted to a constant stream of new arrivals.
Fostering Homeless Rescue Pets
In addition to taking in cats whose owners have been called away Cyndy was recently invited to undertake a different kind of fostering. She was asked if she would take in homeless cats who find it difficult to settle into the local rescue centre. These are animals that have been found living as strays on the streets and have been brought into the rescue centre with the hope of finding them a home. Sometimes they find themselves overwhelmed by the rescue centre and benefit from the one to one care and attention that someone like Cyndy can provide. "These cats are more of a challenge than the pets but all the more in need of some TLC and I'm glad that I can give it." Recently Cyndy was given a litter of homeless kittens to take care of and she found it "Very challenging but very rewarding".
Cyndy specialises in looking after cats but pet foster carers are needed for dogs and other animals too.
You might also like...