I Put My Love of Animals Into Action: A Case Study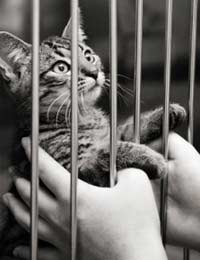 Joely Green has always loved animals and grew up with various pets "We had cats, dogs, hamsters, rabbits and even a rescued magpie at one point" she admits. Growing up she moved to the City and bagged a responsible job as a PA in a law firm. Living in a first-floor flat meant that it was not possible for her to keep any animals. "It wouldn't be fair when I don't have a garden and I also have to travel sometimes with my job."
For several years Joely was so caught up in the buzz of her metropolitan life that she didn't notice how much she missed being around animals. Then she spent a weekend seeing friends back home and realised how much she envied them their pets. "I got up early each morning just to hang out with their cat and fell over myself to take their two dogs for a walk! I realised how much I longed to be around animals."
Back in the city she felt despondent at the thought that she couldn't own any animals herself and even considered getting an elderly rescue cat that would be happy to stay indoors. She soon realised that it wasn't realistic with her lifestyle. But the idea of pet rescue started her wondering about the possibility of volunteering.
She contacted various local rescue shelters to find out about the options but none of them had vacancies for volunteers to spend time with animals. Nevertheless she did sign up to help out with admin in the office of one of the charities once a week. "It didn't directly involve their animals but it was a good way to put my skills to use and I felt I was at least helping out our furry friends in some way." Joely did get to see some of the rescued animals in the shelter as they arrived and would hear about their progress.
Six months into her stint volunteering and a place became available looking after the cats that came in. Joely was thrilled and increased her hours so that she could continue to help with the paperwork as well as spending time cleaning up after the animals and spending time with them. "I love spending individual time with the cats. Each one has its own personality and desperately needs some special TLC and human contact." Over time Joely has become a specialist in feral and semi-feral animals, helping them to adjust to their new lives and helping to calm them down before they find new homes.
Joely is also now part of a team which 'vets' potential adopters by chatting to them and visiting their homes. She helps to match up potential owners with the cats who are best suited to them. She very much enjoys being part of a team of staff and volunteers who all share in a commitment to animal welfare. She has made new friends and has learnt new skills but most importantly she now gets to spend time in the company of her beloved animals. "People often underestimate just how therapeutic it can be to be around animals. It means so much to me to watch their trust and confidence grow."
You might also like...