Working for Citizen's Advice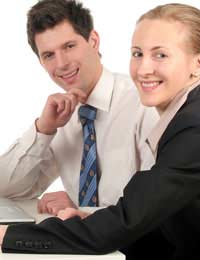 It's estimated that Citizens Advice Bureaux help over 2 million people every year deal with issues surrounding employment welfare benefits, tax credits and debt. It is a network of independent charities which, in addition to helping to solve financial and legal problems by offering information and advice, also plays a role in trying to influence policymakers. Most of its service staff are trained volunteers.
Training and Qualifications
You would possibly think that you would need a professional legal or financial background to work within a Citizens Advice Bureau and whilst many people do work or have previously worked in these types of professions, you do not need to have any formal experience or qualifications to offer your services as a volunteer. You'll receive approximately 3 months theoretical training which will then be followed by shadowing more experienced personnel who will then act as your mentor and it will be them who will assess you and determine the time when they feel you are competent and ready to give advice yourself.
The important things you will need to have are personal qualities such as being able to listen in a non-judgemental manner, respecting confidentiality, being able to work well as part of a team, committed to the principles of equality, able to relate well to clients and to be able to work with them to achieve the desired results and some basic skills in arithmetic. You must also be committed to being able to devote a few hours each week to the role. The exact amount of time can vary from branch to branch, however.
Different Roles You Can Perform
The role of a Volunteer Adviser will involve exploring a person's problem and explaining choices to them so that the client can decide what options are open to them and what they want to do. It might also involve drafting letters on a client's behalf, making phone calls and calculating benefits and entitlements. All of an adviser's meetings with a client need to be also documented on an electronic filing system and updated regularly as it may not always be the same adviser seeing the same client each time so it's important to maintain accurate computer records so that both the client and any adviser who deals with them knows exactly at what stage a particular problem or issue has reached so that they can plan the next steps.
An adviser's assistant is basically a less experienced worker who may be working alongside the adviser to become familiar with the process of assisting clients before they take on the role of an adviser themselves. Their work might include completing basic forms, preparing and handing out leaflets and self-help packs, taking down specific details of a client's issue firstly so that it can be assessed by the advice team and designated to the appropriate adviser and they'll often be the first point of contact when a person comes into the bureau for the first time. Even if you're unsure about working in an advisory capacity, you can still offer your services on the administration side of things where your duties do not involve face to face meetings with clients. In this type of role, you would be keeping information files up to date, typing letters, photocopying, faxing, preparing and distributing information, inputting information onto databases etc.
Working as a volunteer at the Citizens Advice Bureau means that you will be providing a vital service. If you've ever visited a bureau, you'll know just how busy they are and they provide people, especially those who are vulnerable, with an extremely important lifeline when it comes to dealing with financial, legal and employment issues. The skills and training you will learn will also stand you in good stead on your CV as the skills and training you'll receive will be transferable to many occupations.
You might also like...
I am a 60 yr old with many life skills.I have worked for the nhs all of my working life unfortunately due to health issues I am unable to continue to work full time. I have had breast cancer two knee replacements and I have arthritis of the spine but I feel I could contribute effectively as a volunteer.I would appreciate the possibility of an interview with your selves. I live in south manchester. Kind regards Janet Kearns
Jan
- 19-Nov-19 @ 12:59 PM
This is not a clear representation of the training...I have been training at different bureau for a year now and it has been a complete muddle and mess....I have not had the opportunity to shadow anyone be an advisors assistant or have a mentor.....on the point of giving up....it has been a very frustrating experience although I have met some nice people....also they sometimes forget you are a volunteer and you can be out of pocket re expenses! Oh and some of the busier bureaus want every ounce of energy from you be prepared to come out totally drained and exhausted while the paid members of staff have a more relaxing time...they dont interview the clients, you do all the work and the write ups then they try and find fault with it.......maybe I've just had a bad experience but go in with your eyes open!
I have been inspiring to work with any voluntary organization. and i really heard so much about your org. please keep the good work. Hoping to work with your orgnization soon or someday.
anny
- 19-Dec-11 @ 12:59 PM