Volunteering With Meals on Wheels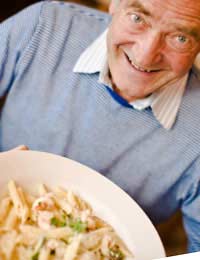 A great way to get involved with your local community and support vulnerable members is to volunteer to help with meals on wheels. This service provides healthy meals for those who may not otherwise enjoy a properly cooked meal. You can volunteer for just a couple of hours a week or for longer if you wish. You will join a team that is supporting the elderly and others in your local community.
Who can volunteer?
Anyone over the age of 18 can volunteer to help out with the service. Contact your local authority or Women's Royal Voluntary Service (WRVS) as these are the main providers of meals on wheels services. If you have a driving licence you will be especially welcome as drivers are in particular demand. A vehicle may be provided but it is more usual for you to use your own vehicle.
Who uses the service?
Another valuable asset could be cookery skills but it is most important that you are calm, patient and able to get along with a wide range of people. In addition to the elderly other users of meals on wheels services include disabled people, people with learning difficulties and people in recovery from accidents or hospital treatment. You will gain the satisfaction of making a difference to their day by providing them with a nutritious meal. You may also be their only visitor that day and so can provide companionship as well which may be every bit as much valued as the food.
How does the service work?
Food is usually prepared at a central point and you will go there to collect it. This may be a local school or similar public establishment. Meals may be hot or frozen for those who are able to warm meals up. Individuals will have signed agreements with their local authority or other service provider and this will cover how often they receive a meal and whether the meal is heated or frozen. In many cases hot meals are only provided for those who are housebound and unable to operate an oven to heat a meal for themselves.
In most cases there is a nominal charge for the meals and part of your role as a volunteer could be to collect such payments. Meals cater for a wide variety of tastes and dietary requirements and there will usually be options including gluten-free, vegetarian and halal or other options to meet specific religious requirements.
Is there more to the role?
As you are dealing with some of your community's most vulnerable members an important part of your role will be to pass the time of day with each client and to listen to see whether they have any personal worries or concerns. If you take on the role regularly then you will develop a relationship with the people you visit. This could be one of the most rewarding aspects of volunteering with meals on wheels.
Deliveries may vary from two or three times a week to seven days a week depending on availability and need. You should be able to volunteer for as many or as few days as is convenient provided you can commit to a regular time slot. With such a vital service it is important to be reliable to ensure that vulnerable members of community receive the nutrition they need.
You might also like...
I live in Wakefield and would like to volunteer. I have catering experience and a clean licence
Oldie
- 4-Jan-21 @ 5:25 PM
CHESTERplease... I have a car, and full clean driving licence
Liz
- 21-Dec-20 @ 4:49 PM
Hi, I live in north London and I'm willing to volunteer. I have my enhanced DBS certificate.I would be very pleased to give my time to make the lives of older people better. Please no not hesitate to contact me.
Niki29
- 11-Dec-20 @ 11:50 PM
My husband and I are retired,own a vehicle and can volunteer in Fife.
Jeanette
- 9-Dec-20 @ 1:07 PM
I want to volunteer for Meals on Wheels locally South Birmingham have vehicle and license
Dave
- 30-Nov-20 @ 10:29 PM
Hi, I'm interested in volunteering in the Waltham Forest area for meals on wheels. Have own car and available to start as soon as required. Many thanks.
Ross
- 28-Nov-20 @ 10:42 PM
Hello. I am looking for volunteering opportunities in East London, ideally with a food bank or catering. Please get in touch with anything which may be suitable
I'm a driving instructor with some spare time i live in Sutton Surrey and would love to volunteer
Zara
- 2-Nov-20 @ 8:54 AM
Good evening Wondered if you could please help me or not or can advise iam local in a villiage in arlesey and i volenteered in march i donated a lot of bags to residents and our vulnerable residents in the villiage we have a team of volenteers for AGN arlesey good neighbours and each week we visit and deliver food parcels to residents who are shielding and are vulnerable its always been a passion of mine to help and support when i can with the corona virus its very difficult for residents to socialise and when we do visit they enjoy every minute they have we always safe guard ourselves when we do interact. christmas this year is going to be very hard and difficult and emotional for our residents and was thinking want to do we do get food parcels that we put together from the need project and was thinking we really need something really special in our village for our residents who are vulnerable and with no places to go at christmas and potentially not be able to go out to see there family so my advice is if this is something you can do or help with i can get money together from our volenteers and iam sure people would love to help to donate if iam asking about and to recieve a meal at christmas would really make a difference in our villiage thankyou for your time and hope you can help and understand and iam sure there is a lot of demandat this time please stay safe and keep well reguardsmiss dawn smith
Dawn
- 18-Oct-20 @ 10:18 AM
I would like to volunteer to deliver meals on wheels. I'm based near Basingstoke and have my own car. Thanks
Serena
- 7-Oct-20 @ 12:07 PM
Would love to offer my services for meals on wheels.
Vic
- 6-Oct-20 @ 12:29 PM
I want to volunteer my cooking skills. I have 25 years experience in the hospitality industry. I live in Greater Manchester.(Stockport postcode)
Yochef
- 24-Sep-20 @ 10:42 PM
I live in Hampshire and would like to volunteer for meals on wheels. Have my own car and full licence.
Niamh
- 10-Sep-20 @ 10:11 PM
I would like to volunteer for meals on wheels. I have a driving licence and live in Longridge
Jenn
- 8-Aug-20 @ 9:33 PM
Iam very interested to help with meals on wheels for my local community of Congleton,Somerford,Holmes Chapel,Cheshire East areas.It would be great to hear from somebody with any information.I've helped with meals on wheels when I lived in Trafford. Kind Regards Richard Glester.
Rich
- 28-Jul-20 @ 8:19 PM
I would like volunteer my services to deliver meals on wheels the Slough area, I have a basic DBS, car and motorcycle
I would like tobecome a volunteer in colne lancashire .I have every Tuesday off work so would like to help in any way I can
Angieb
- 8-Jun-20 @ 9:21 PM
I would like to volunteer with Meals on Wheels.
Angie
- 8-Jun-20 @ 4:22 PM
Happy to help in my local area once or twice a week. Needs to be regular so I can block out my calendar as I run a business and very calendar-driven. :) Live in postcode 4075 in Australia.
Donizen
- 4-Jun-20 @ 12:58 PM
Would like to volunteer for meals on wheels. I am very passionate to serve/help elderly men an women.
I would litto volunteer to work for meals on wheels on a regular basis Regards, John Stagg 0402374978
Young Stagg
- 4-Jun-20 @ 12:24 AM
Hi. I would like to volunteer for meals on wheels.
Claire
- 2-Jun-20 @ 9:39 PM
I would like to volunteer for Meals On Wheels!
Cheri
- 1-Jun-20 @ 11:44 AM
Hello, My children(18 yr old Olivia and 16 yr old River) and possibly my husband would like to volunteer a couple days a week to deliver meals. My husband, my daughter and I work full time so I was hoping for in the evening or on weekends is you have anything available. We are in the Gloucester City Camden County area. Please let me know if this schedule will work. Thank you, Lori Atkinson
Lor
- 28-May-20 @ 3:07 PM
Hello, Where do I sign up to volunteer please I don't mind volunteering anywhere in Hampshire.
Ben
- 27-Apr-20 @ 8:32 AM
I have recently been furloughed from my job as a legal secretary and was wondering whether at this difficult time you needed any volunteers
Lesley
- 23-Apr-20 @ 1:40 PM
I would like volunteer my services to deliver meals on wheels the Woking area. I am 70 years of age fit and healthy
Hi, do you need any volunteers for the Andover area for meals on wheels?
Julie
- 14-Apr-20 @ 4:31 PM
I live in St Neots and have a takeaway business. Would like to volunteer for meals on wheels.
Norma
- 8-Apr-20 @ 5:57 PM
I am willing to volunteer to help out with meals on wheels as I heard on the radio you were struggling as the usual volunteers are over 70 years old and now have to stay home.
Licky
- 7-Apr-20 @ 11:37 PM