Volunteering as a Disabled Person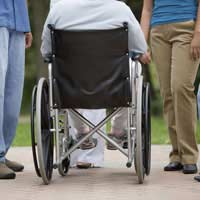 Volunteering offers a host of advantages from the chance to learn new skills to the opportunity to meet new people. It can even kickstart a whole new career. There are a host of available volunteer roles and there should be no reason why your options as a disabled person should be restricted. Depending on your impairment there may be some positions which it is not possible to fill but by and large you should find many opportunities open to you.
Start by getting in touch with organisations that interest you to find out if they have current volunteering vacancies available. You may want to draw up a CV or list of your skills and experience which you can show to prospective volunteering organisations. This will help you to establish your interest and help an organisation get a better idea of who you are. Hopefully you will find a match between your background and interests and the current needs of the organisation.
What Options Are Available to the Disabled?
There is a wide range of volunteering options available and you can find out details from your local library or council. You may be interested in taking on a peer support role, that is in volunteering for an organisation which works with people with the same impairment as you. There may even be campaigning or fundraising organisations where you can play a valued role. This could be in a wide range of areas from befriending to marketing and fundraising. Not only will your personal experience of the impairment be invaluable here you will also be guaranteed a supportive volunteering environment.
Meet the Organiser
You may wish to volunteer in a completely different area altogether. The next step is to go along to meet the organiser and to get a feel for what the role entails.
It is at this point when you can find out how geared up the organisation is to support you as a disabled volunteer. They are required by law to make 'reasonable adjustments' to ensure that the environment is adapted to enable you to carry out your role in the same as other volunteers. For example you may require memos or other written material to be produced in large print or in Braille or you may require a desk with an adjustable height to accommodate the height which your wheelchair sits at. You may also want to check that there are suitable facilities within the building for you so that it is fully accessible.
Take the time to raise your requirements and any queries you may have at this point. You should find that the organisation is keen to accommodate your needs as much as they possibly can.
If you are on benefits it is always worth discussing it with your benefits adviser before you begin volunteering. If you receive Disability Living Allowance you may also be able to receive an allowance from the organisation you are volunteering with without this affecting your benefits.
Volunteering can offer lots of personal rewards and fulfillment. Hopefully you can find a suitable volunteering position which brings you both.
You might also like...
Im on pip and rely on my mobility scooter as can't stand for a short time or can't walk so far unaided or aidedbut I'm looking to volunteer wherever I can near my home and will not affect my pip . I can sit but only for short periods cos of my back .
Jackie
- 16-Aug-23 @ 10:39 AM
Hi. Can anyone signpost me towards volunteering options that are inclusive for disabled folk, who cannot take part in physically demanding fundraising/volunteering? Especially with the Central London and City areas. Thanks
Reyaaz
- 30-Jan-23 @ 8:47 PM
deborah - Your Question:
I was wondering that if a charity wanted to hire disabled people, but they did not have the resources, what could they do to enable them to do this?
---
Our Response:
Do you mean in making adaptations to facilities etc? Or something else? Some more information would help.
VoluntaryWorker
- 11-Apr-18 @ 12:22 PM
I was wondering that if a charity wanted to hire disabled people, but they did not have the resources, what could they do to enable them to do this?
deborah
- 10-Apr-18 @ 4:51 PM
I work two days in a cafe as a volunteer. They tell me that if I'm off with flu or any other reason they call it a holiday not sick days.I have been told that if I don't carry on with the voluntary work I will have to go to the dole office. I don't get paid for the two days I do , so why should I go to dole office if I quit and how long do I do voluntary work in a cafe ? Is it until retirement age?I'm 38 now.
Lea
- 14-Feb-17 @ 1:50 AM
i suffer from personality disorder ,anxiety and depression ! Me and my partner and thinking of buying a small holding as we both think it may help my health ! to help me get healthy and back into work i thought this would be a good place to start .i thought it may give me some work experience in the kind of work i may need to know about. i have knowledge in the building industry .im really interested in permiculture and eco living . i would like some experience in dry stone walling ,working with farm animals and forestry .iv broke both hands ,shoulder ,foot and four ribs at start of year so im still not 100% so full time work is unfortinately out of the question .im also interested in conservation work as i have a love for animals thankyou stephen
pez
- 24-Oct-13 @ 6:52 PM
I am a fifteen years old boy. I want to collaborate with your organization as a volunteer . I can speak French, English, a little bit German and Spanish of course. I would like to do whatever you consider is better for you, know people and be useful Last 3 years I have been with other companies during the summer and it has been a great experience. During winter, I am studying classical music (oboe)and sports (waterpolo) also. I love cooking and making magic tricks. I live in Madrid (Spain) and I can collaborate with you from June, 20 to September 20. - E-mail: chemacall@hotmail.es If you consider I could be helpful to your organization, please, do not hesítate to contact me as soon as possible. Yours, José María Calleja
CHEMA
- 11-Mar-13 @ 11:32 PM
Please Help me to find volunteering work in NHS under Havering and Barking and Dagenham....I have anti-bodies disorder and use cruthes and want get more skill and life exprience again
Ade
- 16-May-12 @ 2:50 PM
please could you help me find volunteering opportunites abroad I have cerebral palsy and use crutches want to do soneome good and get more skills and life experience
none
- 12-Jul-11 @ 11:54 AM
Hello, I am from Spain. I´m 17 years old and I would like working like a volunteer this summer.
Miren
- 15-May-11 @ 2:57 PM