How Voluntary Work Can Lead to a New Career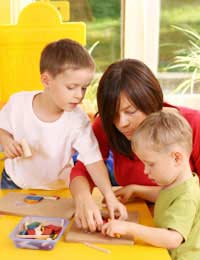 There is something very satisfying about voluntary work; it can give you not only a sense of achievement but also a sense of being part of something worth while.
For many a volunteer taking part in voluntary work can be something that not only changes how they look at certain aspects of their life and the lives of those around them but it can also be the start of a journey towards a new career.
Why Voluntary Work?
There is always a shortage of people to help in hospitals, nursing homes, children's playgroups etc and for many of these institutions the only way they can meet their quotas of staff is to open their doors to volunteers who give up a set number of hours per week or month to come in and help bolster the normally reduced numbers of paid staff.
Voluntary work not only allows you the opportunity to help others it also helps to increase your life and work experience. Many of us would not find ourselves in many of these organisations if we did not volunteer our services.
Gaining Experience
Regardless of our age we are always learning and during the course of our working lives the more experience we can amass the better it can be for us especially if we feel unhappy in our chosen careers and might like to consider the possibility of a career change. Volunteer work allows us to gain that experience and also to find out for ourselves whether or not we feel we would be suited to that kind of work.
The very least that can happen is that we sacrifice a few hours of our time to find out we aren't suited to it whilst helping someone else at the same time.
Experience Towards a New Career
Some of us have CVs which are long and contain a list of jobs or indeed the opposite is the case and our CVs are short with perhaps only one or two jobs listed on them. A good way to help bolster your CV and also to prove to any prospective employer that you are willing to learn and to help; is to list any voluntary work you have done.
Some people refuse to detail their voluntary work on their CV as it feels as though they are massaging their egos but in reality a prospective employer likes to see that you are willing to help others and also that you are committed not only to helping individuals but your community as well.
Displaying such work on your CV proves also that you are honest and trustworthy and can work with a broad cross section of the community.
Choosing a Career in a Sector You Have Volunteered For
Having had experience in volunteer work many people find they want to do the work on a long term basis and set about seeking employment in that area. Having volunteered in that sector will already have given you a considerable amount of experience and exposure to the advantages and disadvantages of that sector so you should be well placed to know if it is for you or not.
Again having experience already gives you a slight advantage when applying for jobs in your chosen area especially if you are up against individuals who are applying for the first time. This is of course not to suggest that you are automatically going to get the job but it will certainly set you in good stead.
Further Information
For more information on how to volunteer and careers in the voluntary sector visit the website of your local authority that will have vacancies both for volunteers and for employed staff. They will also be able to provide you with information on what qualifications and experience is needed and how to go about gaining both qualifications and experience if you do not already have them.
You might also like...
Hi my name is Ellie I am looking for volunteer work with animals to gain experience and references to eventually lead to working I haven't worked since I was 19 because I am a mum to 4 boys my boys are 13 12 10 and 6 so now that they are all at school I am now looking for a new challenge and to gain experience in the working world via volunteer work I do drive and I live near stonehaven thankyou so much for taking the time to read.
Ellie
- 24-Nov-17 @ 1:08 PM
Hi, I would like to do something called Platform Trading, and give the profit that I earn to charity whilst I claim benefit, would this be allowed by DHSS? Thanks.
Shaf
- 26-Apr-16 @ 10:41 PM
THANKS ROY looking voluntary work in support work.I work with all peoples and ages.
roy
- 30-Apr-15 @ 2:35 PM
Adding to my comment below - Wakefield, West Yorkshire area.
Hattie
- 29-Sep-14 @ 3:05 PM
I am a 16 year old year 12 student looking for voluntary work on a weekly basis, preferably helping the elderly.I am a very caring, conscientious and compassionate person currently studying A levels.I have had first hand experience with dementia with two grandparents suffering and feel that there are many elderly people who may be lonely and isolated who would benefit from a visit or help.
Hattie
- 29-Sep-14 @ 3:03 PM
Hi I'm looking for volunteer work near to my home town Urmston, Manchester I am keen to help people directly either with special needs, psychiatric problems, children or teenagers in need. I am a caring, understanding and fun person. I love people of all nationalities and religions. Please could you advise if i can be of any help. Many thanks Krissy
KRISSY
- 10-Sep-14 @ 2:10 PM
I would like to become a volanteer in a soup kitchen in the westmidlands area.
Ccherish
- 31-Dec-12 @ 8:16 PM