Volunteering for Older People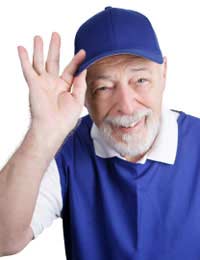 These days we are all living much longer and healthier lives. Long gone are the days when people thought of retirement as simply a time in life where you would sit back, put your feet up and take it easy and, nowadays, many retired people find that they are even more active than they were when they were actually working.
Why Older People Volunteer
There can be many reasons why an older person would choose to offer their services on a voluntary basis. For some, they simply like to be on the 'go' all the time and the thought of putting on their slippers and watching daytime TV all day would be abhorrent to them. Then there are those might potter about in the garden for a while but find that they've completed all their tasks yet they still have time to fill and a need to fill it. Then there are people who have been bereaved. They might have lost a husband or wife and take great comfort in getting out into their local community where, not only does voluntary work take their mind off their own problems but it also enables them to feel a sense of how lucky they are to be able to help others less fortunate than themselves. It also allows them to socialise with other people and to avoid the social isolation that living alone can often bring.
What Other Benefits Does it Bring?
Many people often feel a sense of loss after they retire. For decades they'll have become accustomed to having to get up each day to go to work with all the routine that entails and the sense of purpose and value that work provides to all of us. Therefore, voluntary work is often a very valid substitute to paid employment in that it fulfils the same sense of having a purpose, keeps a person self-disciplined and gives them something useful to do and a communal place to go to. It allows older people to maintain their self-respect and has been proven to have great benefits to both their physical health and psychological well-being. Because of the latter two points, in particular, this also means that they are better placed, both physically and mentally, to cope with the other demands on their time during retirement.
For example, having a positive outlook on life, feeling a sense of purpose each day and knowing that you are providing a valuable service will transcend into other areas of your life. You'll feel fitter, happier, have better self-esteem and will feel confident in meeting people of all ages and backgrounds all of which are qualities that you'll need if you're still actively involved in any sporting pursuits, keep fit classes, social gatherings and going on holiday, not forgetting the physical demands that keeping up with the grandchildren can have upon you!
What Qualities Do Older People Bring To Volunteering?
Older people are always in demand as volunteers as they bring so many qualities and life experiences which are highly prized in the voluntary sector. Firstly, they'll have built up a set of skills and experience that will be unmatched by their younger counterparts simply through the number of years they've been able to achieve and develop this. Their communication skills will also often be more highly developed and, therefore, they'll be more likely to be able to relate to people and engage with a much broader cross-section of people. They bring maturity and common sense, are much more likely to be committed to the cause and to demonstrate loyalty and will often be more patient and tolerant of difficult situations which they might encounter. They are also probably more likely to feel a sense of true self-worth in that, as they might no longer have a paid occupation, voluntary work might well become a substitute for that so they will feel more of a sense of duty to it than, perhaps, others might do.
Quite often, they'll also be able to demonstrate a greater degree of flexibility in that they might not have to juggle so many other commitments. That said, however, older people can lead such busy lives these days that their commitment should never be taken for granted and thought needs to be given as to their other needs such as pursuing pastimes and hobbies, spending time with their grandchildren and the possibility of them wishing to take more holidays than the average person so flexible volunteering initiatives can be extremely beneficial to them and that can allow more older volunteers to become involved as well.
What Roles Are There For Older Volunteers?
Older volunteers are generally able to pursue the same kind of volunteer opportunities which are available to the rest of us and it's simply a case of marrying up what you want to do and achieve against the practicalities of it. These days, you're just as likely to see a 70 year old person working on a conservation project in Peru, for example, as you are to see them working in more typical environments such as helping out with home-help schemes, running meals on wheels services etc. In fact, the very thought that you could stereotype the kind of voluntary role an older person would undertake would be difficult to justify. However, some organisations need to address issues of insurance restrictions, health and safety issues and lack of access to older people who may have mobility problems but who still would like to get involved with a voluntary project so there is still much work to be done to encourage a greater number of older volunteers to step forward. Nevertheless, for the thousands that are already involved, most of them would tell you that there are only positive things to be gained by volunteering when you're older and for many, they'll often say that it has given them 'a new lease of life' and it could for you too.
You might also like...
Hi I like to become a volunteering to help with meals on wheels I have lot of experience in preparing vegetables I use to work in hotel I live in Carlisle and I am 60 it would be nice to meet with new people I look forward to hearingfrom you yours fai thfully Mr. Cawood
Catweazle
- 8-Jul-20 @ 9:43 AM
Hi There, I would very much like to help out in the community providing meals or supporting those in need. I'm currently not working and hope I can be of assistance. Living in Loughor, Swansea.
Sarah
- 8-Jun-20 @ 9:32 PM
Iam interested in doing voluntary work in caring what do I do to apply I live in Halifax west.yorkshire
Sally
- 17-Apr-20 @ 5:31 PM
Iam a carerI've done this work for along time iwould like to to do caring volunteer work
Sally
- 17-Apr-20 @ 5:27 PM
Would like to volunteer to help do meals on wheels. Am a car owner.
Jules
- 17-Mar-20 @ 8:13 AM
I am interested In volunteering as a driver for Meals on Wheels in Sutton area. I am recently retired at 76 years of age. Please let me know if I can be of service.
Per volontariato all'estero anche più mesi, inglese elementare
dibe
- 30-Jul-18 @ 4:29 PM
It would be thankful if you accept my request to join your organization.
Ash
- 30-Oct-17 @ 9:51 AM
I would like to join some sort of volunteer help Kind regards Stewart
Scooby
- 21-Feb-17 @ 1:35 AM
I am contacting you on behalf of the Millan Center in Bradford. We are a small community center for women and young children in a mainly South Asian Community. We provide a safe place for women who are feeling isolated because of family or cultural issues. We urgently need help on our Management Committee to ensure we can continue to provide a service for these vulnerable members of our community. Elizabeth Hellmich MBE Chair of the Management Committee
n/a
- 22-Jun-16 @ 9:38 AM
Hi I would like to join the volunteer job in caring for older people, it would be very much appreciated if I can join your organizatio I live in Bedfordshire.
Pete
- 11-Jan-12 @ 11:01 AM
Hello Our non-profit making organisation, Shropshire Languages Society is in desperate need of volunteers in Shrewsbury. It has proven an extremely rewarding group to be part of. Can you help us find people? Thanks
DTW
- 11-Nov-11 @ 11:37 PM
I would be grateful if you accept me join your organisation.
Richdoff
- 13-Jul-11 @ 4:23 PM