Volunteering for Young People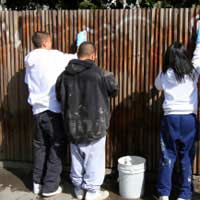 There is often a misconception amongst the youth of today that voluntary work is mainly for middle aged and middle class people and mostly made up of women or those who have retired and have got plenty of time on their hands but they'd be very much mistaken. There are thousands of young volunteers, many of whom will be under 18, who will be out and about as you read this giving their time and their skills voluntarily. And, whilst it is true that some organisations and certain voluntary roles require you to be older, there are plenty of opportunities for younger people to get involved in volunteering and many charities will actively try to attract the younger element citing a younger person's energy and enthusiasm along with their fresh approach and willingness to come up with new ideas and ways of doing things as a healthy complement to the more mature and established views offered by the more experienced volunteer.
What to Look For As a Young Volunteer
Just like anybody else who is involved in volunteering, younger people must first identify those causes and projects that they're attracted to, that they can offer a firm commitment to and ones which will allow them to best demonstrate the skills and personal qualities they have to offer. It's also important to choose a role which can provide you with a real training opportunity in order to increase your skills base which will inevitably look favourable on your CV as it's quite common for younger people to have to rely heavily on any experience they can think of in order to get their first break on the career ladder and a carefully managed period of voluntary work is always considered highly valuable by prospective employers, especially when you're just starting out. It demonstrates commitment, a willingness to learn, an ability to work as part of a team and an appreciation of a particular cause – all qualities that are highly desired by employers.
Doesn't It Cost Too Much and Will it Take Up Too Much Of My Time?
These are probably the three most frequent objections cited by youngsters when questioned about voluntary work. However, there are plenty of opportunities out there which rely on people of all ages to make a contribution and the charities and organisations behind these initiatives are getting keener to ensure that they try to be flexible as possible when it comes to the amount and regularity of time that people need to put in. They also understand the pressures faced by younger volunteers in terms of juggling school or college commitments, maybe a paid part-time or full-time job as well as other commitments such as sports and social activities, all of which tend to be high up on the agenda of the younger volunteer. They also appreciate that money is often not a premium when you're younger so in the majority of cases, you can be assured that you will be reimbursed any travel expenses you may incur and you may even be entitled to a meal allowance also. There are also plenty of opportunities to combine hobbies and pastimes in a voluntary capacity.
What Kind Of Voluntary Jobs Are Available To Young People?
Younger volunteers are so sought after these days that the range of opportunities available to you is almost endless. However, typical work can include helping out with environmental and conservation projects locally e.g. cleaning up rivers and ponds, working in hospital radio, helping younger children with basic maths, reading and writing, working in a charity shop and there are countless opportunities to find voluntary work in both the arts and sports volunteering sector where you can combine your passion for a particular hobby and still make a very valued contribution to society – a good example could be getting involved in refereeing disabled 5 a side football matches or wheelchair basketball tournaments or designing stage sets for your local community theatre. The key thing is to appreciate that volunteering is for everyone and that no-one needs to feel excluded and, for a young person, it can not only help you to feel good about yourself but it can also teach you new skills, improve your self-esteem and how to relate to other people of all ages and backgrounds with whom you may not have previously come into contact with and it will give you a real sense of purpose and an appreciation of your 'place' in your own community. Furthermore, a stint of volunteering will often prove to be the foundation of the transition to adulthood as you start out to pursue a career and your experience will often instil a good set of values within you which you will carry throughout life.
You might also like...
I am 13 and looking for volunteering work with animals or reptiles. Does anyone have any suggestions?
Kareena
- 28-May-22 @ 3:41 PM
hi im mia 14 im looking for my volunteering portion for my dofe in my town (nuneaton) hope you can help.
ymi
- 11-Apr-22 @ 11:46 PM
Interested in volunteering in Derbyshire
Why?
- 17-Mar-22 @ 9:12 AM
Hi I am 15 years old, 16 years old in June, and I am looking for volunteer work in a rescue centre. I am just outside Andover in Hampshire. I need flexible hours due to full time school. I have no training.
Dlggc
- 6-Oct-21 @ 3:46 PM
Hi, my name is Jai, I am 13 I am looking for some charity work near me (Bracknell) to help people less fortunate than myself. I love helping people, and would love to be able to do that. My hobbies include: rowing, table tennis, cricket, chess, grade 5 trumpet I also enjoy maths
Jai
- 12-Sep-21 @ 10:52 PM
Hi, My name is Leah, I am 13 years old and I live in central London. I am looking for a volunteering opportunity in a care facility or hospital as it is my passion to become a surgeon when I grow up. I am particularly interested to support Hospices. I am also very good at typing and correcting grammar. Some of my other hobbies include tennis, swimming, trampolining, reading, science, cello and piano (grade 6), and Maths. I can contribute from small things to large jobs as I am a very responsible person and want to make a difference to others. I need a volunteering job for my DofE Bronze Award and I only need to volunteer for 1 hour, but I am more than happy to volunteer further. I need a volunteering job that is flexible as I also have to go to school. Thank you so much for your kind support and I hope to hear from you soon. Best wishes, Leah
Leah A
- 13-Dec-20 @ 11:11 AM
Hey, I'm doing DofE, and I only need 1 hour per week. is there any opportunities in Birmingham for 14 year olds, or any opportunities working from home?thank you
rar
- 29-Nov-20 @ 11:18 AM
Hi I'm 13 and I live near Oxford. I'm starting my DoE, and I don't know what to do for volunteering. I love animals.
Liza
- 24-Nov-20 @ 8:09 PM
Hi, I'm 13, turning 14 in two months, and i'm looking for a volunteer job for 2hrs per week for my DofE. I live in the South East London area. I am interested in things such as library work and admin. Could you please let me know if there are any volunteer job opportunities available soon in my area. Thank you!
andrea
- 3-Oct-20 @ 12:27 PM
Hi My daughter is 13 turning 14 soon is looking for a volunteering opportunity or job around animals we live in south west London thank you .
Manoni
- 30-Sep-20 @ 11:49 AM
hi I'm 13 nearly fourteen, I'm just looking to see if there was any volunteering opportunities in Glasgow. thanks very much. steven
stevenmaca
- 19-Aug-20 @ 11:15 AM
Hi I'd like to start 2 hrs per week of volunteering for my DofE I've startwd late because I broke my hand. Anything outdoors to do with sport or animals. Newcastleor Northumberland Thank you
JXEBILL
- 13-Mar-20 @ 5:19 PM
Hi I'm 13 years old soon 14,I'm looking to volunteer for something, preferably working with animals or around them
Sophie
- 26-Feb-20 @ 4:26 PM
Hi. I'm 13 and looking for any jobs round Manchester-Bolton. I am trained in first aid and childcare. I need flexible hours due to school. Turning 14 in July.
Sam Barlow
- 15-Jan-20 @ 5:01 PM
Good morning, my name is Laetitia and I'm 13 yrs old and live in Caerphilly, South Wales. Because of my age I'm finding it hard to find volunteering posts. My passions are, sport as I'm a member of an athletics club, Taekwondo and horse ride. The environment as I love science, geography and learning about other people's cultures. I also love writing stories and drawing. Since I've started school I've had 3 short stories published. It would be appreciated if you could help me find somewhere to volunteer. Thank you, Laetitia. 13
Laetitia
- 4-Aug-19 @ 7:35 AM
Hi, I'm a 13 year old girl and was just wondering what positions you would offer to someone of my age. I would love to volunteer, especially with young children or in a more medical way like caring for others. I've had a passion to become a doctor for a very long time and I think volunteering would give me a great chance in seeing what it's like. Also I am starting my bronze DofE so i have to do a volunteer role and was very passionate about doing it by helping others. I am really passionate and a great worker, I always try my best to help other. If you could let me know if there are any positions available for 13 year olds (possibly 14 year olds as I turn 14 shortly) I live in Sheffield and close to Derbyshire. Thank you and if you could please let me know if there are any positions available
Grace
- 24-Apr-19 @ 10:50 PM
Hi I'm 13 and I'm looking for volunteering for animals in the Leicestershire area, I am a hard worker and I am very passionate about helping animals, I have tried to find somewhere for younger volunteers, however, I cannot find any. Thank you.
Aerynn
- 13-Jan-19 @ 5:13 PM
hi my name patricia i would like to help animals in need but i am only 10 i woldd like to do this beacaus i love animals and i had a cant that died after 4 years so i would like to give those animals who are sick and comfort and give them a good rest iof life if they have something or if they are a bit old and are going to pass away soon.
pati
- 18-Dec-18 @ 7:08 PM
Hello.Im 13 years old, and I know that I am young, but I would really love to volunteer for a hospital , help disabled kids or anyone that wants help. I have a disabled little brother and I want to help other children that could use some help. I have good conversation skills, I really want to help people.
Kiki
- 14-Nov-18 @ 5:22 PM
Hi! I'm 14 and I live in Plymouth. I am looking for volunteer work involving children or people in general. I love reading and writing so I could help somebody with English. I am also interested in helping in hospitals, animal shelters or with young children. Is there any volunteer work that I could do in my area?
Jersey.K
- 23-Oct-18 @ 8:50 PM
hi im 13 im doing my DoE and I am finding it hard to find any volunteering work as im too young I really enjoy working with little kids and i wouldnt mind working in a hospital please get back to me asap as i need to hand in my sheet soon
Hi im really interested in volunteering to help young offenders in northamptonshire , im not sure how to go about applying for volunteer work,thankyou
Matt
- 9-Oct-18 @ 8:57 PM
Hi my name is freya and i am 13 years old i am about to start my bronze DofE and need to start my volunteering side of the program but am having trouble as of my age i need somewere i can get to easly, i love to work with youngh children and i am a very creative person can you please try and help me find somewhere to volunteer.please reply asap Yours faithfully Freya wilkinson,13
Freya
- 9-Sep-18 @ 6:38 PM
Good morning.i am serving in the military in the colchester area.i have recently returned from working abroad.While serving in the UK before I was a volunteer working with a charity Leave of Hope who worked with, young offenders and "dis-advantaged" youths. having come back to colchester (after a 7 year absence) and seen the rise in crime and anti-social behaviour in youths in the area, rather than be on my soap box and rant, i want to take action and get involved.I also worked with Youth Services in Bristol and i would like to look at becoming a mentor.Please contact me with details of how i can speak with someone to state the application process.i am DBS Cleared and have conducted Safeguarding Training.
Rab
- 13-Aug-18 @ 11:30 AM
Hello , my name Stephanie I'm 14yrs old and live in slough. I would love to find any voluntary work available but specifically, working with kids and shops and having work experience. I would really appreciate it if you would get back to me with any offers. Thank you.
Steph
- 10-Jun-18 @ 1:19 PM
I am Physically handicaped person but can do any hand work. I working in computer job last twely year and selfdefence but no permanent job so want to permanent job.
arm
- 19-Mar-18 @ 9:46 AM
Hi i'm 13 years old and my name is Kezia. All of my friends have started to get into volunteer work, so I decided that I wanted to try it to. Unfortunately there is no more space for me in that "work". I love sports and playing the drums and piano is amazing. I like helping young children.
Kezia
- 30-Jan-18 @ 8:37 PM
Hi I'm interested finding out more about volunteering within your organisation Here is abit about myself I'm an experienced youth worker and behavioural mentor I can offer your setting a supportive, consistent, non-judgemental approach to working with disadvantaged young people from all ethnicities and social backgrounds.I have the ability to communicate and interact with young people and adults through ways designed to meet their needs.I am a skilled practitioner, with vast experience and a desire to draw out the best in the young people and adults I work with to see them reach their potential and achieve all they are able to do.I am teachable and keen to learn from new experiences and settings.
I'm 13 and I live in Kent. I have been looking for volunteering opportunities for a while now but to no avail. I love working with young children and people in general. I want to become a doctor and so I am interested in medicine and caring for people and I'm already in touch about becoming part of the St. John's ambulance cadets. Is there anything I can do in the area?
Molly_3298
- 16-Aug-17 @ 3:42 PM
I'm Freya, I'm 13, and I live in Leeds. I'd love to do any charity based work (near me) for any charity. I'm caring, driven, love helping people, and I look forward to seeing what you find.
fryer
- 9-Aug-17 @ 9:39 PM