Good Manual Skills and Caring: What Kind of Voluntary Work?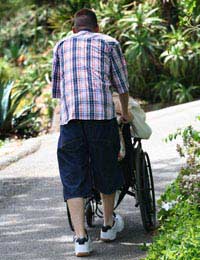 Q.
I am 41 years of age and at a crossroads in my life. Since leaving school 25 years ago I have never really known what career path to take, just been lucky in employment until a few years ago.
I became ill with depression a few years ago and have not had a full time job for 5 years. My illness has since subsided and I feel I need to do something. I am not fully qualified in any aspect of work and applying for vacancies with "no experience" seems to come to a dead end. I thought voluntary work may just help, for my career and my self esteem which is now very low. I am particularly adept using manual skills, maintenance work etc but my caring side makes me think I should lean more that way. Do you have any advice on what voluntary work would suit me and how to go about getting it?
(D.W, 28 April 2009)

A.
I am sorry to hear about your recent depression and difficulties in applying for work. You are right, voluntary work can be an ideal way to help you get back into work. You can commit to as many or few hours a week as suits you and gradually build your confidence back up by rediscovering that you have a valuable role to play in your community. Not only will you gain experience and new contacts you will also be able to add your volunteering work to your CV. This will help to bring it up to date after your five year break from employment.
You sound like a caring person with many practical skills to offer and there should be plenty of charities and voluntary organisations who would be delighted to have your help. Where would you like to work? You might find it helpful to write a CV if you don't already have one listing your skills and work experience. This could help you to think about past work which you have enjoyed or new skills which you would like to learn.
Volunteering in social care could work well for you as it combines both your caring and your manual skills You could take on the role of a voluntary carer or personal assistant for an elderly or disabled person. This could involve such tasks as helping them with shopping, cooking or cleaning or accompanying them on trips.
Alternatively you could volunteer in a hospital or day centre supporting patients and assisting nurses or day centre staff. If you would prefer to do something less physical you could consider befriending. You would get to know an older person, disabled person, teenager or child, listen to their problems and share in outings and events with them.
Your own experience of depression may give you empathy with others in a similar situation. You could consider volunteering for a telephone helpline or advice centre supporting people in need of a listening ear or practical advice.
To find out more about these and other opportunities in your area get in touch with your local Voluntary Council or Library and ask for details of organisations looking for volunteers. You could also consider going to college to study for a relevant qualification such as an NVQ in Social Care. Some organisations that you volunteer with may also support you with further training. Good luck
You might also like...
Hi, volunteer at local hospital, will be 70 next birthday and they do not provide insurance after this age. Would it be foolish to carry on? Thanks
Mag
- 20-Oct-18 @ 4:03 PM
Hello Could you advise me how I can find out how to Volunteer in the Torbay area either with young offenders, people in recovery from drug and alcohol use, or homeless people. I am unable to find the agencies involved in these fields and can not access application guidance.
Chris
- 7-Nov-16 @ 11:53 AM
Hello, I would like to help at a soup kitchen on Christmas day. Somewhere near to Fakenham North Norfol.
marianne
- 2-Dec-15 @ 5:37 PM
hi im 25 years old andiv been out of work for about 8 years after having 3 children i also have epilepsy and have only just got myselfre tested and put back on medication and as i failed in school with everything due to a dramatic childhood i nowwant to start looking for full time work and making my life better and helping others at the same time im caring supportive and commited good at communication and would very much like to go into something like first aid if i could have ask for your help as id like to do voluntary work in brighton as my partner is also a medic thanks
rach
- 9-Jun-15 @ 6:08 PM
Hello. I'm a 64 years young woman that was forced to take early retirement last year and I'd like to do some voluntary work but I don't know where to start. I love to cook and bake, don't mind washing dishes and cleaning up afterwards. Any idea? I live in the Los Angeles area.
Cachi
- 7-Apr-14 @ 2:00 PM
Hiya I would like to do some voluntary work within the lines of caring but I don't know how to go about it please can you help me with this. I am currently doing a level one in health and social care and this will give me some practical experience but also help me help others that need it .
jane
- 3-Oct-13 @ 12:03 PM
Hello. I havre a lot of skills and the heart to give. My main skill is carpentry. Even though I have my degree in computer technology. I would like to help if possible.
Petebreth
- 13-Jun-13 @ 2:52 AM
Im 20-year-old student. I am an english learner. Because of this, I want to improve my speaking skills. I would be glad if I could help people at the same time. What kind of voluntery job should i do and how can i find a job. I sent too many e-mails but nobody respont me. I would be glad if anybody help me.
Murat
- 13-May-11 @ 2:13 PM
Im 23 years old and have just delt with the worse 2 years ever, Iv had a lot of good jobs and been very lucky job wise but after everything thats happened eg Mum and dad spliting up getting in a load of debt and going a bit wild, I want to make a diffrence and help ether animels or children iv come to a put in my life where i wana make a change and find out who i am type thing was wondering if anyone could give me some advise i mean id love to go traverling or somthing and help while im out there any ideas?
K1988
- 7-Apr-11 @ 2:26 PM